Here are a couple of the many Roll-a-Sketches I did in Toronto last week! Thanks to everyone who came by the table, it was a great reminder of why I do that show every year. Everybody's so nice and it's such a neat environment for art and friends!
ICE CREAM + KNIGHT: (click pics for bigger)
OSTRICH + AIRPLANE + CAVEMAN + HELICOPTER:
RHINO + ICE CREAM + CAVEMAN + COWBOY:
CACTUS + TOASTER: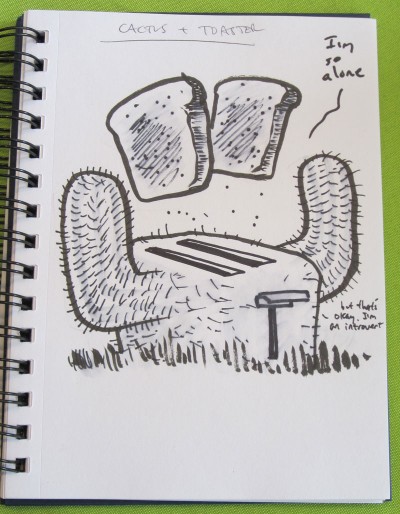 Would you like a Roll-a-Sketch of your very own?? THIS WEEKEND I will be returning to the Bay Area Maker Faire in San Mateo! The show is Saturday and Sunday, May 18-19.
I'll have a booth in the Bazaar Bizarre section, right next to my old pal Chris Yates (handmade puzzle crafter extraordinaire).
BONUS VIDEOS: The last time I was at Maker Faire, two years ago, I recorded a video journal of the drive up and back! Full of HIGH DRAMA and BURRITOS and THE TERRIFYING SPECTER OF FATIGUE. If you've ever wanted to see a lot of me in sunglasses, YOU'RE IN LUCK.
I re-watched these videos tonight and the whole thing seems like just yesterday. But it was TWO YEARS AGO. I don't even KNOW.