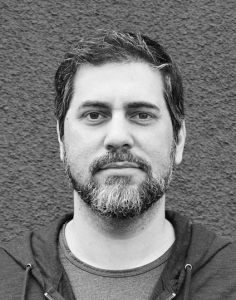 ABOUT THE AUTHOR.
I spell my name with an exclamation point, like so: David Malki !
It's considered an honorific, and used in the same manner as "Jr." or "PhD": there's a single space before it. You don't need to write it in the middle of a sentence, only when listing my name by itself. The exclamation point is not pronounced — though many have tried, often with hilarious results.
I live in Los Angeles with my wife Nikki and some kid we had, and I love kittens.
In addition to making these comics, I work full-time as a product designer.
I started Wondermark in 2003, as a fun side project while working as a professional movie trailer editor. In 2009, I retired from that to focus on Wondermark and other similar nonsense, and currently I'm one of the small (but growing!) number of individuals making a living in the exciting medium of Comics on the Internet™. My income comes mainly from sales of interesting products, patron sponsorship, as well as (in much smaller measures) private art or design commissions, speaking and/or consulting about all this nonsense, and the sale of advertising on this site.
I have three online stores at the same time. My pals at TopatoCo sell my apparel, comic strip prints, posters, and lots of other fun items like mugs and bags. Via my in-house store, I sell greeting cards, magnets, stickers, and occasional other special handmade items. Older T-shirt designs and other bad ideas that should be forgotten are available in cotton form from the friendly aliens at T-Shirt Diplomacy.
You are more than welcome to write me for any reason whatsoever! However, if it's just a quick note, please hit me up on Twitter instead ( @malki ) — it's a lot easier than email and you will likely get a much faster reply. For messages requiring over 280 characters, write dave at wondermark dot com. Many emails are responded to eventually.
For store inquiries, please write to store at wondermark dot com. We had a phone number for the store but that proved to be a bad idea.
For professional inquiries, such as appearances, speaking engagements, publishing, or press inquiries, please write to business at wondermark dot com.
You can also write me a physical letter, and I will try my darnedest to write you one back! (Caveat: no guarantees.) As a kid, I wrote to Jeana Yeager (who co-piloted the Voyager aircraft around the world) and we were pen-pals for like six months.
Wondermark
8334 Lincoln Blvd # 300
Los Angeles, CA 90045
---
ABOUT THE COMIC.
Wondermark is created from 19th century woodcuts and engravings, scanned from my personal collection of old books, and also from volumes in the Los Angeles Central Library and the UCLA Rare Books Collection.
Most of the books these images come from are bound volumes of general-interest magazines such as Harper's, Frank Leslie's and Punch, but my collection also includes special-interest magazines such as Scientific American, Sears-Roebuck and other catalogs, and children's storybooks and primers.
I'm always interested in acquiring more source material, so if you find a moldy old book in your attic (from 1860-1922), and it's full of old drawings, cartoons, or engravings, drop me a line!
Wondermark began in April 2003. It's been syndicated in several newspapers over the years (most notably in the print edition of The Onion from 2006-2009, and the online AV Club from 2009-2013) but these days it's found mostly online or in collections from Dark Horse Books as well as my own press, Bearstache.
You can feel free to re-post any comics from this site on your blog, Facebook, Tumblr, etc. without asking permission, so long as you include a link back to wondermark.com as well!
---
ABOUT THIS WEBSITE.
I generally try to post a couple new comics each week, and sometimes are successful. The tags below each comic and after each blog post, or the "All tags" directory, may alert you to other comics or posts on similar topics.
There are loads of ways to subscribe to Wondermark posts — email, RSS, LiveJournal, and Twitter are the best, and all will give you 100% of the content of the site. There's a Facebook page too, but Facebook may not show you all the content on a regular basis. Take it up with them.
The site is hosted by MediaTemple and uses the ComicPress theme for WordPress.
---
HEY MALKI WILL YOU BE MY FACEBOOK FRIEND?
To be honest, I don't use Facebook much at all — and when I do, it's mainly just to stay in touch with family. So as a rule, I don't accept friend invites from anyone who's not my in-person, real-world friend…it just makes everything easier to handle.
Besides, I don't do anything on Facebook anyway; it's not like you're missing out on anything. All public balderdash these days is handled by my Twitter and, to a lesser extent, my Tumblr.
As mentioned above, there is a Facebook page for Wondermark, and that might be something cool to check out! All the comics are posted there too (although, as noted, Facebook might limit how often it shows them to you. Nothing I can do about that, sadly).
I'm not on LinkedIn. I'm LinkedOut.
HEY MALKI CAN I INTERVIEW YOU FOR AN ARTICLE / SCHOOL REPORT?
Yes, this is possible! But to be honest, I have done a lot of interviews and most of them are freely available to read. (In fact, here is a list.) I respectfully ask that anybody doing a school report, etc. take a brief look through that list; in there you'll find answers to all of the common questions I'm often asked.
If you have further questions not covered in a prior interview, new follow-ups, or your report is about a particular theme that I haven't publicly discussed, I'd be happy to look over your questions, but I am kind of slow at these things. If my previous interviews can answer your questions then it's really much easier for both of us.
If you would like to conduct a new interview for a news article or feature story, that's great! I am happy to speak with you. However, I still ask that you look over the list of prior interviews, just so your new interview doesn't cover ground that has already been trod to death.
If you write me with an interview request, please include the word "huckleberry" in your subject line so I know you've read this. If you haven't, please don't feel bad if I send you here first! It really saves both of us quite a bit of time.
---
BIBLIOGRAPHY.
Articles / Columns:
True Stuff from Old Books
The Making of Wondermark
'Comics' is Killing Webcomics
One More Chance (an essay about flying)
Where Do You Get Your Ideas?
Nine Ways to Feel a Bookstore (Poets & Writers)
Stories:
Dispatches from Wondermark Manor
"Fever" (horror-ish)
"Life-Sized Arena Tetris!"
Machine of Death: "Cancer" and "Cocaine and Painkillers"
Other misc. stories and jokes
Guest comics:
Dinosaur Comics 1 / 2
Whispered Apologies 1 / 2 / 3 / 4
Reprographics 1 / 2 / 3
The Webcomic Hurricane Relief Telethon
Thinkin' Lincoln 1 / 2
Alien Loves Predator
Pirate and Alien
Scribs
Goats
Perfect Stars
Unshelved
Scenes From a Multiverse
Reviews of my work:
The Annotated Wondermark
Beards of our Forefathers 1 / 2 / 3 / 4
Clever Tricks to Stave Off Death 1 / 2 / 3
Dapper Caps & Pedal-Copters
Expendable 1 / 2
"Fever"
My books are all on Goodreads.
Interviews / Media:
TEXT INTERVIEWS:
Webcomics series in The Observer (2015) part 1 / part 2 / part 3 / part 4
VanCAF interview (2012)
The Sound a Doggy Makes (2011)
Washington City Paper (2011)
Quail Bell Magazine (2010)
Comic Book Resources (2010)
Things I'd Rather Be Doing (2009)
The Comics Reporter (2008)
Greylock Arts: .Comics (2008)
Comic Book Bin (2008)
Illiterate Magazine (2007) page 1 / page 2
PODCASTS & AUDIO:
The Power Was In You All Along @ ECCC 2017 (panel audio)
Comics Manifest (2017)
The Wallet Inspectors (2017)
The Art of Engineering (2016)
Geek's Guide to the Galaxy (2013)
New Disruptors (2013)
To The Top (2012)
Jordan, Jesse, GO! 2011 / 2013
War Rocket Ajax (2011)
Mustache Rangers (2011)
The Sound of Young America (2009)
Words and Pictures (2008)
Webcomics Roundtable @ Heroes Con 2008 w/Nicholas Gurewitch
Webcomics Weekly
Blank Label Podcast
VIDEO:
Urban Dictionary Game Show @ ECCC 2014 (panel video) NSFW language
Crowdfunding with Matthew Lesko (2013)
The Creative Penn(2010)
C2E2 interview with Kurt Sasso (2010)
RGBfilter @ TCAF(2010)
Comic Book Club @ MoCCA(2010)
Metropolis Comics in-store appearance (2010)
STAPLE! 2008
Other interesting projects:
Machine of Death (book series & card game)
Bookwar with Ryan North
Tweet Me Harder (comedy talk show, 2009-2011)
Real True Actual Stories of America (animations)
Expendable (a film)
Me Vs. Comic-Con: Who's Better? (a film)
Wedding trailer/poster