This week I'm at Gen Con in Indianapolis! I'll be with the Blind Ferret crew at booth 1537.
The booth will probably look something like this — this is last year's setup:
It's pretty colorful.
Here are a few of the Roll-a-Sketch drawings I made for folks at San Diego Comic-Con last week! Click any drawing for a closer look.
ROBOT + POLICE + STAR TREK:
POLICE + ALF + GORILLA: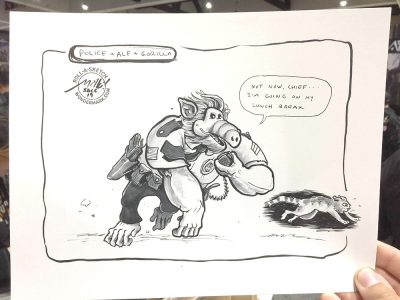 NINJA TURTLE + WARIO + FLASH + BIBLICAL: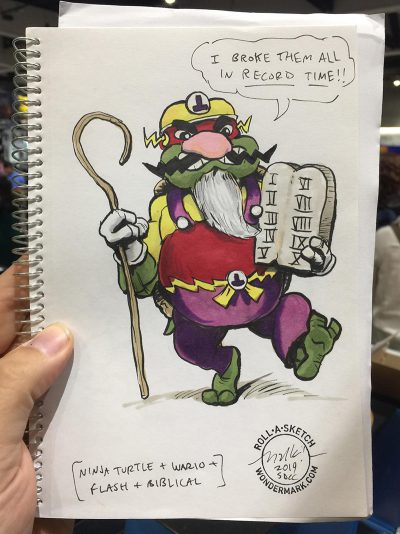 HALLOWEEN + X-MEN + PIXAR + ROYALTY: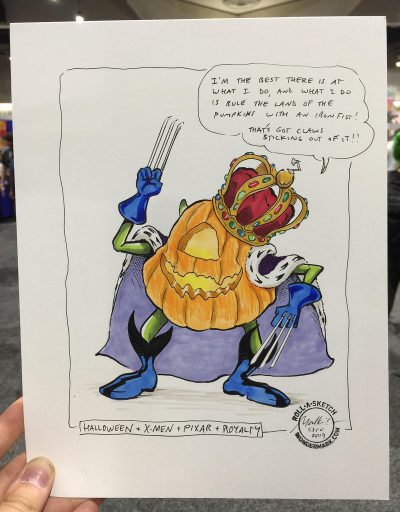 The word balloon in this last one reads: "I'm the best there is at what I do, and what I do is rule the land of pumpkins with an iron fist! That's got claws sticking out of it!!"
---
Also, a brief housekeeping note. I apologize for the somewhat sporadic comics of late. We've been dealing with a very sick kitty who's required a lot of care over the last few weeks. Sadly, we said goodbye to our buddy over the weekend.
Blessed images. pic.twitter.com/E9eQraCOXu

— David Malki ! Gen Con #1537 (@malki) July 28, 2019

All proceeds from sales of Feral Cat jigsaw puzzles go to the Charlie's-vet-bills fund. As well as everything else I sell, I suppose.
(Feral Cat herself is fine; she has graciously donated her likeness to this cause close to her heart.)