I am back from the Alaska Robotics Mini-Con & Comics Camp in Juneau, Alaska!
(I wrote about camp previously here and here).
It was a great time. But here is one very specific thing that was fun! Celebrated likeness-capturer Scott Campbell had the idea for a group of artists to break into groups and draw portraits of each other.
Here is Scott hard at work on some of them (with bonus Raina Telgemeier):
And here are a bunch of Scott's portraits, next to a bunch of other people's portraits of him: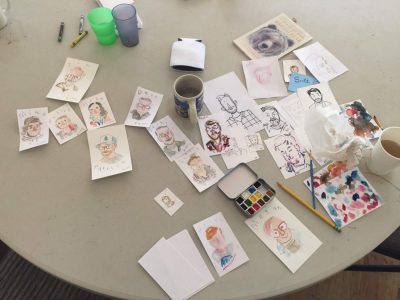 I didn't have the presence of mind to take pictures of all the ones I drew. But here are the ones people drew of me! I love seeing all the different styles and perspectives. Click any image for a closer look.
CREDITS:
1. Kerstin LaCross @Kerstinlacross
2. Mike Grover @mikegrovercomics
3. Colin Anderson
4. Tony Cliff @TangoCharlie
5. Scott Campbell @scottlava
6. Averyl Veliz @averylveliz
7. Chris Yates @superyates
8. Hollis Kitchin @hollis_kitchin
9. Payton Francis
10. Megan Baehr @nonesuchmegan
11. Haley Boros @hihaleyboros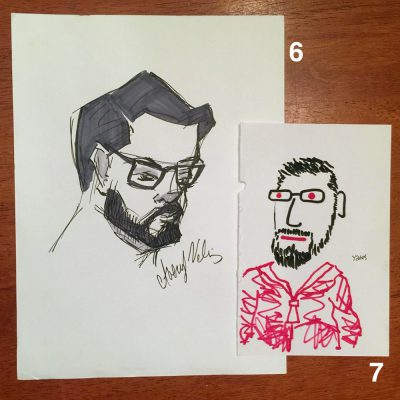 …For reference, I actually look like this: