My parents moved into this house in 1972! My siblings and I grew up here, perched on a hillside backed up against the National Forest. I lived here my whole life, until I moved out to go to college.
But now my mom is moving, and it's time to clean everything out from a million dusty corners and cabinets and stacks of old boxes! You don't live someplace for 42 years without odd items sticking around. As you either know or can readily assume, I'm super into weird old stuff, so I thought I'd share some of the unearthed artifacts that I found interesting — including some very surprising correspondence between my mom and ISAAC ASIMOV:
ANCIENT 7UP BOTTLE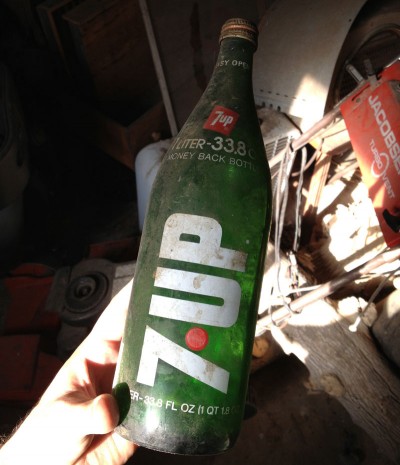 (Click any image for bigger)
CONVENIENTLY CHARRED MATCHBOOK
T-SHIRT MADE AT MALL KIOSK IN 1987 — this picture is of me, and it must have been made as a gift for my brother, so that he would be the one wearing the picture of his brother and asserting that he loved me. A FOOLPROOF PLAN
LEBANESE BAKERY TIN
SPICES LEFT OVER FROM MY GRANDMOTHER'S MOONSHINE — my Lebanese grandmother apparently liked to make arak, an anise-flavored fermented spirit.
We also found her still and a jar of arak that was probably 30+ years old. I wanted to try some, but I also wanted to stay alive, and the latter impulse won out.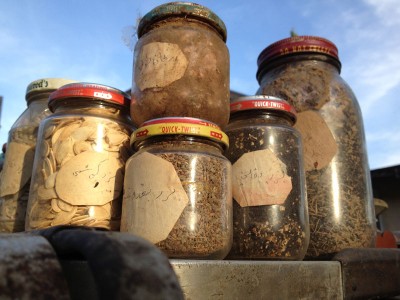 MY ATTEMPT AT MAKING MYSELF AN AIR FORCE UNIFORM AT A VERY YOUNG AGE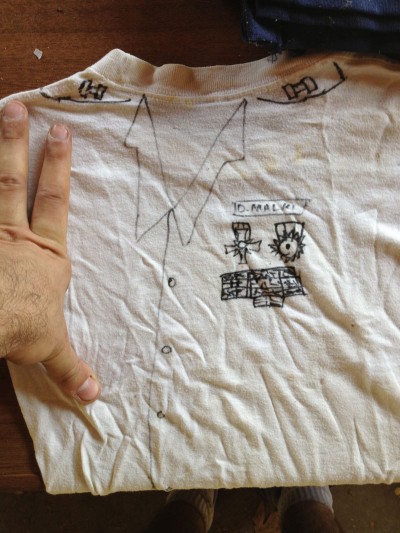 AMAZING FLYER FOR AN EVENT I WANT TO GO TO
THE AIRPLANE I BUILT TO KILL TIME ON MY COUSIN'S CONSTRUCTION SITE that I later attempted to sell to the Smithsonian Air & Space Museum, via letter extolling its virtues as an "authentic replica of a C-7 Caribou", and demanding the highest amount of money I could think of, which was $70. I believe I was in the third grade.
The Smithsonian wrote back with a very kind letter explaining that their collections were built by donations only. No way was I going to donate my masterpiece, so I held onto it! Until yesterday, when I chucked it into a dumpster.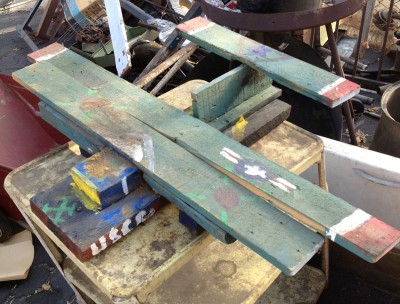 GRADE-SCHOOL-ERA HAND-DRAWN LETTERHEAD FEATURING A BADASS ATTACK HELICOPTER
PENCIL BOX IN MY MOM'S DESK, STILL BEARING A PRICE TAG FROM HAVING BEEN PURCHASED BY HER IN COLLEGE (1958-1962)
POSSIBLY MY FIRST PUBLISHED WORK (sadly unfinished). 'Malown Bros' referred to me & my elementary school best friend, Aaron Brown.
The whiteout implies that perhaps it did not begin as a collaboration. Note as well the series number in the upper corner — who knows what hijinks Timmy the dog might have gotten up to, had I not abandoned the entire enterprise after a page and a half??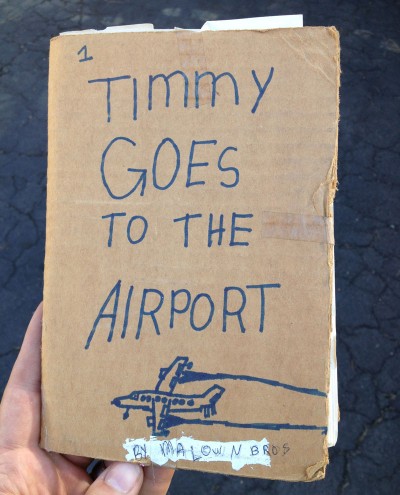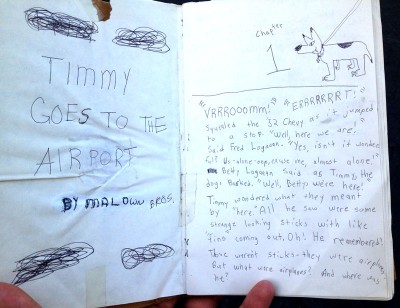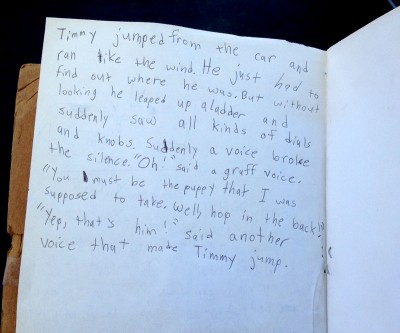 My mom was (and remains) a prolific correspondent: she writes letters to authors, columnists, lawmakers, public figures, and the like. Before email, of course, that was all done on paper (with a brief dalliance into the heady world of the fax), in a way that can leave traces decades later.
I found the occasional response letter she received, implying various inquiries on her part, but imagine my surprise when I found this, tucked quietly in a file folder:
A TYPED CARD FROM ISAAC ASIMOV
(The fact that he wrote 'Mallei' instead of 'Malki' implies that her original was handwritten.)
And as if ONE wasn't enough to be amazing — the following day my sister discovered ANOTHER!!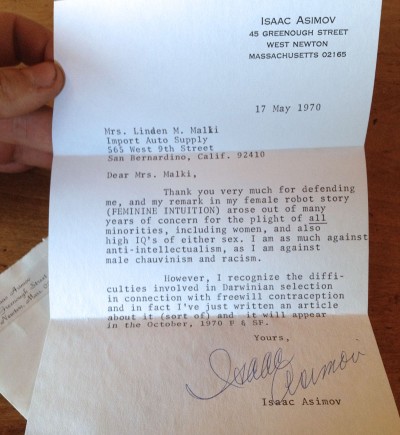 MORAL OF THE STORY: Write letters, I guess?? And save everything that your kids might remotely find interesting decades later.
###
ALSO: Since you are a savvy and informed bunch, I thought I would ask your advice. I have been charged with dispensing of two interesting items: a TRS-80 computer (complete with external floppy drive and a few manuals and pieces of software), and a mid-50's vintage Zenith TV/phonograph cabinet:
Neither are in mint condition and both are rather heavy and tricky to move. (Currently they are in Southern California.) I don't know if they have any collectible value, or if the labor of maximizing said value would be worth it in the end.
If you have any clever suggestions as to what to do with these things (besides simply discard them, unless that's the best option), please leave a comment on this post. I appreciate any assistance!