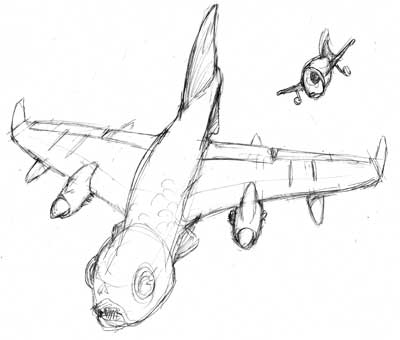 Twice a year, I offer my books in "Artist Edition" — I create a custom unique sketch in every book, for those that desire it. Patrons of the most recent offering are well familiar with my fixation on "flying fish," by which I mean strange hybrids of fish and aircraft (or fish and armored vechicles, or insects and aircraft, or land mammals and construction equipment). Here are some examples from this spring's series of Artist Editions: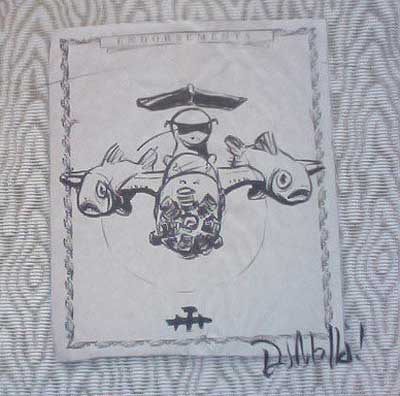 I will be honest with you: I have harbored furtive dreams of turning this particular subject into an oeuvre, of creating larger and ever-more-complex tableaux of sea creatures/aircraft, engaged in all sorts of aerial hijinks in glorious, full-painted color. (The sketch at the top of this post was an expression of this urge to refine and develop the theme.)
Well, thanks to diligent reader and frequent correspondent Kevin S., I have learned that apparently someone else had the same idea — Roland Tamayo: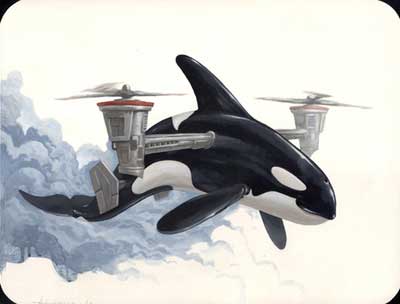 I HEREBY DECLARE TAMAYO MY NEMESIS
…although I should point out that my inspiration, and perhaps Tamayo's as well, was and is the surrealist vehicular work of Stan Mott:
I believe this more comprehensive collection may be Stan's official site, but with respect, it's miserable to navigate. However, if you have a little patience you'll find the charming "History of Tanks" illustration series there, which I'm sure is why 90% of the sketches I've done at conventions in the past year have featured tanks in some fashion (usually attached to African wildlife).
Finally, consider this your official warning that the fall Artist Edition series will become available very soon! Before the moon is full! October is going to be a big month, I'm just brimming with exciting news. ALL IN GOOD TIME.