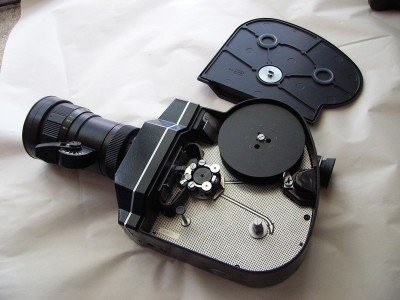 I'm selling a 16mm film camera! A bunch of years ago, on a lark, I decided to buy this Krasnogorsk K-3. The K-3 was invented by the Soviet Union to capture battlefield footage on 100-foot spools of film, and it has a wind-up crank so it doesn't require lugging a battery pack around or any external source of power at all. The 17-69mm F1.9 zoom lens is also removable and swappable (it's got a Pentax M42 screw mount), and the camera's even got a built-in speed control to shoot from 8 to 48 frames per second.
Here's some footage I shot with it a few years ago (apologies for low YouTube quality):
And here is the eBay auction! I'm even offering free shipping (to the U.S.) because I am kind of dumb, and I'll toss some free Monocle Poppers into the package too. The auction ends tomorrow is over. Thanks!