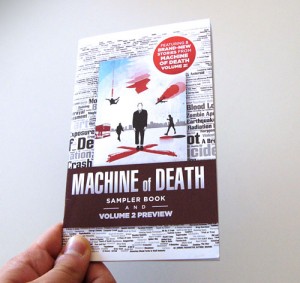 If you're attending the World Fantasy Con in San Diego this weekend, keep an eye out in your gift bag for our Machine of Death Volume 2 Sampler booklet! It contains two stories from the upcoming sequel. (We'll be announcing the full lineup for MOD2 next week.) You can also pick up sampler booklets next weekend at the Minneapolis Indie Expo — I won't be there, but my co-editor Matt will be, along with MOD contributor Katie Sekelsky. More info about these fine events at the Machine of Death blog.
I'll be at World Fantasy this weekend, but I won't have a table. I will, however, be signing books on Friday night, and I have a panel on Sunday:
10AM: Intellectual Property Rights vs. the Free Web

Does information really want to be free? Do the people who say that still think so once they've been published? Generational differences in attitudes toward information and its effects.

Justin Ackroyd, David Chanoch, Jeff Conner, Ashley Grayson (M), David Malki !
Come hear us discuss all the attitudes toward information and its effects.
Here's a rundown of some other upcoming appearances as well, all in the Los Angeles area:
NOVEMBER 7 (8 PM). My new improv team, "Battlesocks," will be performing at M.i.'s Westside Comedy Theater in Santa Monica! It'll be our first salvo in a month-long improv tournament, so depending on how we do there'll likely be other performances throughout the month as well. Free admission! Cheap drinks! Probably some laffs! Come cheer us on!
NOVEMBER 17 (8 PM). I'm throwing a magic and variety show in Hollywood to celebrate a year of Machine of Death, and I'm putting all my hilarious friends on stage! Free admission! MOD2 news and giveaways! Here's more about the Super-Stupendous Machine of Death Magic & Variety Show. Save that date!
DECEMBER 10-11. At the Renegade Craft Fair Holiday Market at the L.A. State Park, I'll have a full complement of holiday cards and pleasant goods.
BONUS VIDEO: Here is rapper MC Mr. Napkins. I first learned about him when he performed an amazing set at M.i.'s Westside Comedy Theater. This song is called "The Aggressive Bee."
The time I saw him, he did a song about vegetables that blew my mind.