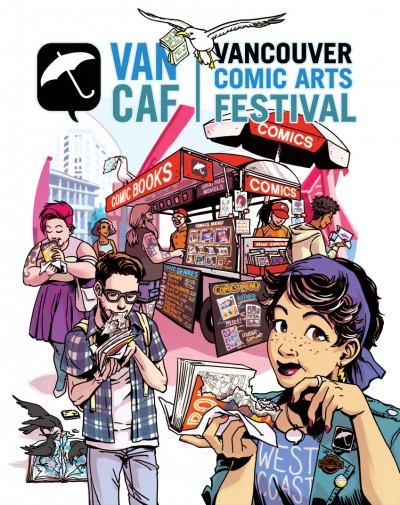 THIS WEEKEND I'll be in Vancouver, BC for the Vancouver Comic Arts Festival!
Held at the Roundhouse on Saturday and Sunday (May 23-24), admission is COMPLETELY FREE and so I expect to see ALL of you there.
Besides holding down the ol' table, I'll also be participating in these events:
INSPECTOR PANCAKES AND HIS TERRIBLE FRIENDS
Sunday, May 24th 12:00 PM – 12:45 PM

Hosted by Karla Pacheco
Featuring Kory Bing, Emily Horne, Jeph Jacques, David Malki !

To celebrate the world premiere of Inspector Pancakes Helps The President of France Solve The White Orchid Murders, creator Karla Pacheco, along with her terrible, terrible co-conspirators, planned to hold a panel. But her panel plans will have to wait, because it looks like one of her panellists … is a murderer! Armed with her wits, a group of ornery comics creators, and a team of adorable crack dog detectives, Karla Pacheco is on the case! But will you help her investigation, or hinder it?
QUICK ON THE DRAW 3: THE QUICKENING
Sunday, May 24th 4:00 PM – 4:45 PM

Hosted by The Fictionals
Featuring Ian Boothby, Jeff Ellis, David Malki !, JJ McCullough, Alina Pete

Join The Fictionals Comedy Co., Cloudscape Comics, and double-threats Ian Boothby and David Malki ! for a packed hour of comics & comedy in Quick on the Draw 3: The Quickening! This event combines the best of both worlds: improvisers perform for your amusement while artists draw their shenanigans. Featuring improv games, live drawing, and—most importantly—prizes! Audience participation is suggested, and fun is mandatory.
---
I had a great time at Maker Faire last week! PROBABLY the highlight was getting a 19th-century tintype portrait taken by the fine folks at Sonoma Tintype.
Tintype photography etches an image onto a metal plate. I had thought about getting a cool shot for a vintage-feeling author photo, or something.
INSTEAD what ENDED UP HAPPENING was a portrait of the 19th century's most notorious pickax-murdering train robber: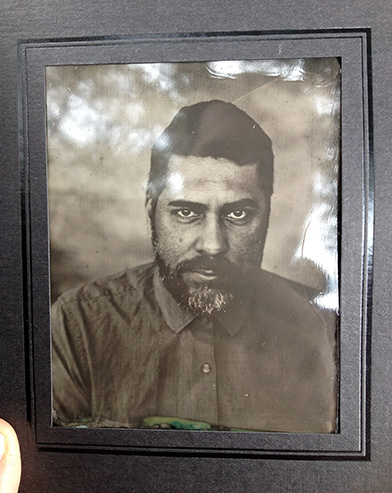 SO GREAT. Everyone should get a tintype photo done, it'll outlast any of your other worldly possessions.
Oh hey here's some Roll-a-Sketches too!! I did a bunch, of course, but here's an incomplete selection of my favorites from the weekend (click the images for bigger):
ROYALTY + WONDER WOMAN + GENIE + SKATES:
CAMPING + BODYBUILDER: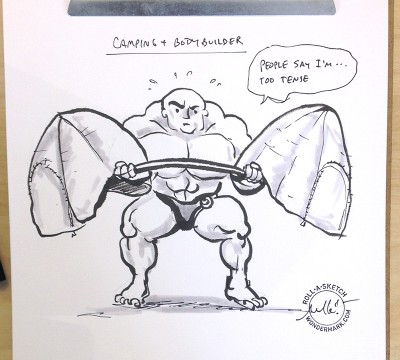 TREE + HUNGRY + CHEERLEADER + BANANA:
ROYALTY + UNICORN: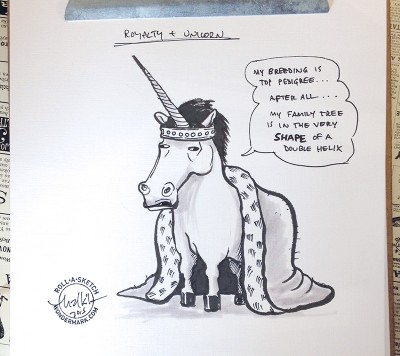 BLIMP + RABBIT:
And of course ZOMBIE + MUSICAL + BANANA + WIZARD: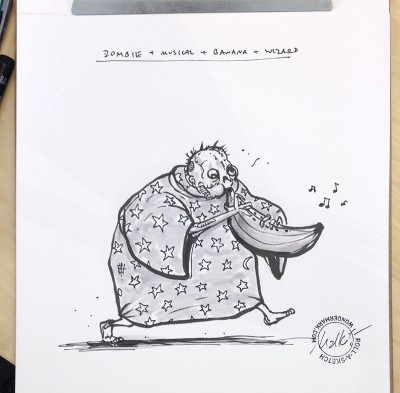 Thanks to the many fine folks who said hello and got to take home a Roll-a-Sketch!! See the rest of you in Vancouver!