This post originally ran during the LAST Winter Olympics, in 2014. I think it's STILL VERY RELEVANT.
stirring olympic narratives: • the athlete trained very hard • his/her country wants him/her to win • his/her family is very supportive

— David Malki ! (@malki) February 13, 2014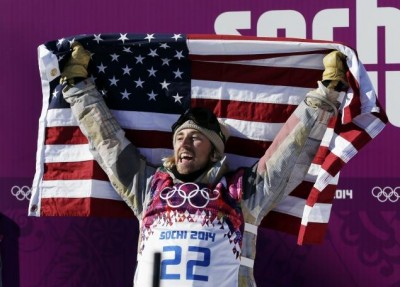 Like lots of you perhaps, I'm watching bits of the Olympics, and it's interesting to watch how the same basic narratives are played over and over in an attempt to add drama to the sports. Fundamentally, the Olympics is about world-class athletes competing with one another, so of course they're all going to be dedicated, and the pride of their country.
But what if…THERE WAS MORE TO THE STORY???
better olympic narratives • the last practitioner of a dying sport • in the olympics by mistake • possibly replaced by a bear in a costume

— David Malki ! (@malki) February 13, 2014
better olympic narratives • needs pure gold from medal to save dying spouse • in curling contest for immortal soul • skis are actually feet

— David Malki ! (@malki) February 13, 2014
better olympic narratives • actually snowboarding to save community center from developers • little white lie on first date has gone too far

— David Malki ! (@malki) February 13, 2014
better olympic narratives • back half of horse costume took a wrong turn • deep undercover narcotics agent • trying to outski her past

— David Malki ! (@malki) February 13, 2014
better olympic narratives • bionic sequined tutu has mind of its own • every 4 years we must cavort to thrill the icedemon • make-a-wish kid

— David Malki ! (@malki) February 13, 2014
@malki Traveled back in time to kill world leader but fell into sport due to missed date

— Recovering ninja kat (@Kouban) February 13, 2014
@malki here to save their homeworld from a crippling gold medal shortage

— Erik Peterson (@miniwombat) February 13, 2014
@malki Lost hunter accidentally wins biathlon. Training for Gymkata II: This Time It's In Snow? Actually a wizard just showing off.

— Jon Bergdoll (@jbergdoll) February 13, 2014
• country ceased to exist mid-ski jump à la Tom Hanks in The Terminal • presidentchancellorking of micronation must do every event himself

— David Malki ! (@malki) February 13, 2014
• elaborate costumed ruse to trap international gambling cartel • athlete switched minds with family dog • in olympics ironically

— David Malki ! (@malki) February 13, 2014
• wants to prove that a scientologist can also be a world-class snowboarder • family was killed by a metal target and now out for revenge

— David Malki ! (@malki) February 13, 2014
• v. precise fetish requires winning a bronze medal specifically • hates snow and wants to crush it • just wants to get on the wipeout reel

— David Malki ! (@malki) February 13, 2014
@malki Didn't realise where those stairs really went until it was too late…

— alison (@alisonborealis) February 13, 2014
@malki Elaborate spinoff of popular 1995 Sega Genesis game Izzy's Quest for Olympic Gold

— Jon Bergdoll (@jbergdoll) February 13, 2014
@malki Meant to sign up for Summer Games. Checked the wrong box.

— Erik Peterson (@miniwombat) February 13, 2014
@malki Ineffectual attempt to get divorced parents back together Chasing dream of starring in local furniture store commercial in ten years

— Jon Bergdoll (@jbergdoll) February 13, 2014
• need to collect all five colored rings to heal the planet • just love hearing accents • ruse to sell all this ski wax before it spoils

— David Malki ! (@malki) February 13, 2014
@malki Believes winning gold medal will lead to an audience with Zeus

— Recovering ninja kat (@Kouban) February 13, 2014
• wheaties box photographer who always wanted to take a selfie • there against wishes of every country • forgot NOT to be in the olympics

— David Malki ! (@malki) February 13, 2014
@malki ghost who needs to win 100 gold medals to get into heaven.

— Joe Hopkins (@Balthazarlove) February 13, 2014
@malki · Primary role on hockey team is enforcer, really just wants to dance · Speed skater is forced to maintain 55mph or bomb will go off

— Ned Keitt-Pride (@BigNed) February 13, 2014
@malki foolishly chose "dare" instead of much safer "truth" option

— Tim Willmott (@holterya) February 13, 2014
@malki blindly following guy who keeps getting into bobsleds

— James Webber (@james_t_webber) February 13, 2014
• making the best of speed-skate-shaped foot tumors • uncomfortable in clothes not emblazoned with national insignia and sports brand logos

— David Malki ! (@malki) February 13, 2014
• using biathlon as research for existential novel • splashed with paint while nude and mistaken for member of norwegian curling team

— David Malki ! (@malki) February 13, 2014
@malki Just prefers the temporary McDonalds in the olympic village

— Bryan Stoll (@BryanStoll) February 13, 2014
@malki Cryptozoologist, misheard name of event as "all imp pics"

— Emily (@erpurc) February 13, 2014
@malki Werewolf competing for either Gold or Bronze

— Emily (@erpurc) February 13, 2014
@malki •feverishly chasing ghost, later revealed to be a smudge on goggles •team of snowboard thieves pulling off heist of a lifetime

— Nate MacDonald (@lentilstew) February 13, 2014
@Malki Accidentally wandered into event while trying to figure out the source of that smell

— CSjostrand (@cjsjostrand) February 13, 2014
@malki Forgot to return rented ice skates and felt obligated to use them

— Josh Closs (@FiveIronFanatic) February 13, 2014
@malki Trying to avoid getting a "real job"

— Josh Closs (@FiveIronFanatic) February 13, 2014
@malki dying father made her promise to never enter the olympics; hates dying father.

— Andrew J. Plant (@AndrewJPlant) February 13, 2014
@malki Wrote now-forgotten MySpace password on back of one of the medals

— Josh Closs (@FiveIronFanatic) February 13, 2014
@malki Died overnight from hotel gas leak, being subtly paraded around by coaches Weekend at Bernie's style

— Slinkydoodle Rick (@RicksWriting) February 13, 2014
• just wants to have fun on the bobsled without all the pressure of the World Championships in Königssee

— David Malki ! (@malki) February 13, 2014
@malki communicating with spies via precise sequences of national anthems

— Emily (@erpurc) February 13, 2014
@malki Emmy, Grammy, Oscar and Tony award winner going for coveted "EGOTO"

— Andrew J. Plant (@AndrewJPlant) February 13, 2014
and the number 1 motivator for today's modern olympic athletes: breaking own ankles by hand just not that exciting anymore

— David Malki ! (@malki) February 13, 2014
@malki Final Boss fight with Putin being a close 2nd. Afterwards u unlock a new character and a recolor of your respective country's uniform

— Spencer Stevens (@KryloGrad) February 13, 2014
i like twitter, twitter can be fun