Here are a couple Roll-a-Sketch drawings I did in Austin at Webcomics Rampage last weekend!
RHINO + PARROT + CHICKEN + ROCKET:
RHINO + TURTLE + FROG + ACCORDION: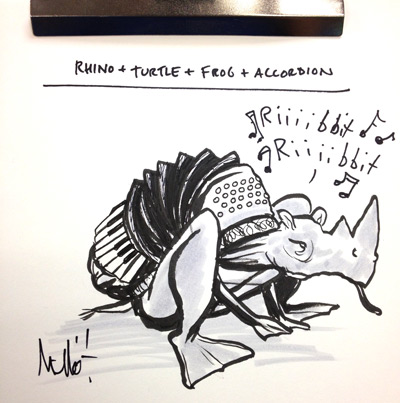 CROCODILE + TURTLE + SAILOR + VICTORIAN:
RHINO + WHALE + ZOMBIE + LAMP:
In case you're not familiar with Roll-a-Sketch, here's the gist, in the form of a sign that sits on my convention tables:
The columns are in pencil so I can erase and rewrite the options when I get bored. Someday when I have the time I'm going to make a fancy dry-erase version.
Then I draw! Sometimes I add commentary too.
The 2014 Wondermark Calendar features a Roll-a-Sketch drawing on each page, along with a bit of historical or biographical information about each made-up creature! And the watercolor treatment on each one (being created by Max Loren Shepard) really brings them to life:
As of this writing, there are only about 80 of the limited run of calendars still available, including only 13 of the Art Collector options (original paintings from last year's calendar). UPDATE: They're all gone!
These sell out every year — which, of course, I'm super-pleased about! I work really hard to make them a lovely piece of entertainment that you'll be thrilled to keep nearby all year long. Yes, I assert that you will be THRILLED.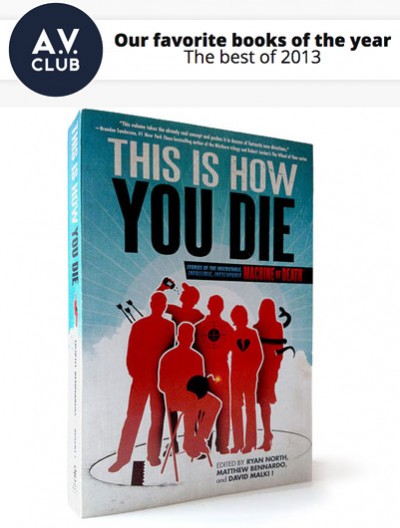 Of course, if you've already ordered a calendar, or if it's not your thing, OR EVEN IF NEITHER IS TRUE, I'll also quite happily point out that the story collection I co-edited this year, THIS IS HOW YOU DIE, was just declared one of the AV Club's Favorite Books of 2013!
Tasha Robinson writes:
…There's an impressive amount of color and genre range in these stories, but also a touching amount of humanity: The theme keeps pushing the individual authors back toward the idea of understanding and accepting their mortality. Some of the stories are funny, some are odd, and some are brilliant, but they're all deceptively smart about exploring all the ways individuals come to terms with death.
I just posted a sample of the audiobook (one full story that you can download for free) right here on the MOD blog!
The book is available on Amazon and everywhere else too! I hear that GIFT-GIVING SEASON IS COMING UP???????????