I have some new holiday cards for you! The line of Wondermark greeting cards — Monocle Poppers™ — are always popular around this time of year, and I'm pleased to share these 2014 DEBUT DESIGNS:
"Mad Night"
"Antlers"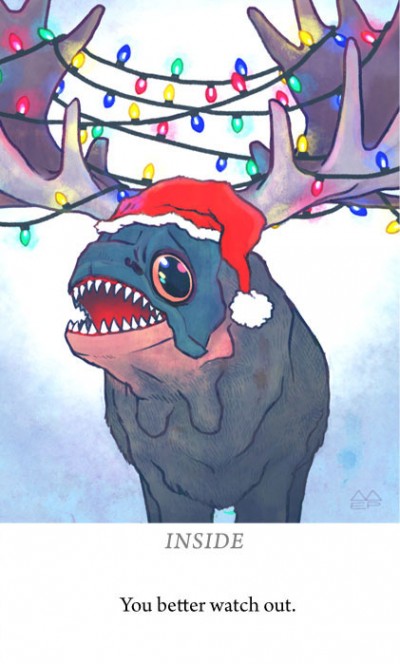 The design above is by the wonderfully talented Emily Partridge! Emily gave me this design last year and told me I could do what I wanted with it, and what I want to do is pay her a royalty on these cards. Because they're super great and I like 'em!
These and dozens of other card designs are available for you to order right now, if you like!
The 2014 Wondermark Calendar
Is available now for pre-order! UPDATE: It is sold out. Its title is:
Roll-A-Sketch Yearbook: 2014 Graduating Class
A Record; A Reminiscence; A Catalog; A Chronicle; An Indictment; A Regret; A Cautionary Tale For All Time of The Grand Experiment & Mistake.
LIKE EVERY YEAR SINCE 2008 — it is available in strictly limited edition only, each piece individually signed and numbered.
LIKE EVERY YEAR SINCE 2009 — you can get the calendar with display apparatus included, or just the cards themselves, if you want to reuse the stand from last year.
LIKE LAST YEAR — this is a biweekly progressive calendar, meaning rather than being broken into months, it's broken into 14-day chunks, and no matter what day of the month it is, you can always see at least two weeks ahead. (More on the unique design in these posts from last year: Part 1 / Part 2 / Part 3)
LIKE LAST YEAR — The art is created by me, and beautifully watercolored by my friend Max Loren Shepard!
New For This Year
The art on the calendar is Roll-a-Sketch drawings, with added biographical information about each strange creature! The art is all mine, and the color is by Max.
Last year, we ordered wooden backboards cut to size and then had to spend a bunch of time sanding and drilling holes in every single board. This year, however, I've made the acquaintance of a man with a laser cutter! (Seen here working on the deluxe editions of the Machine of Death game.)
The backboards available this year are custom laser-cut wood, with integrated easel legs, manufactured to order by my new best friend, Jason Lioi of Dapper Devil. The separate metal easel is no longer required; this backboard comes in three pieces and can stand on its own once assembled (which takes all of two seconds).
Of course, the cards themselves are fully backwards compatible with last year's stands.
In addition, I am offering — as an exclusive bonus with the calendars — a brand new book, called Horrid Little Stories: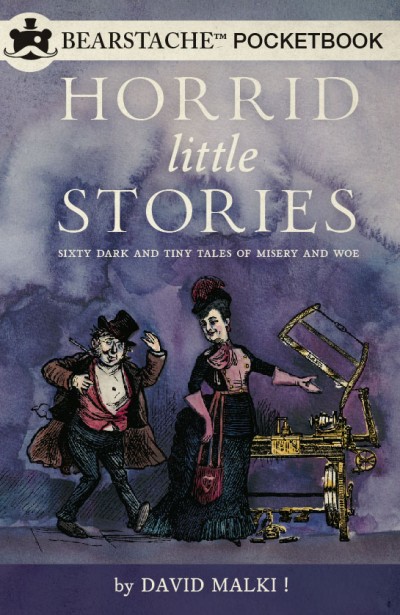 Horrid Little Stories collects all the calendar content (art and text both — not the grids, though, because who cares) from the 2008-2012 Wondermark calendars. Sixty grim little tales in all! (Max painted the cover to this one too.)
The book is available as an option with the calendar, if you like! All copies of the book that ship with the calendar will be signed by me. For the moment, this particular book is only available here, now, with the calendar.
OH YES AND THIS IS ALSO IMPORTANT
I still have all of last year's original paintings from the Gaxian Almanac. They look like this:
They're super wonderful pieces of art — my halfway-okay pencil drawings were really enlivened by Max's beautiful paintings!
So this year, I'm offering the ultra-limited ART COLLECTOR BUNDLE, which gets you the new 2014 calendar, the Horrid Little Stories book, and one of these pieces of original art, matted with that card's text from last year's calendar, and signed by me and Max.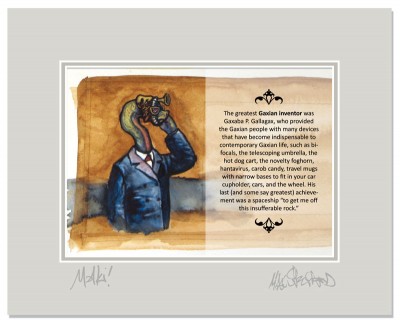 The overall matted pieces are 8×10″. Only 29 Art Collector Bundles are available! And only 250 calendars overall are available!
This is a PRE-ORDER. The calendars, books, and original art will ship by December 18.
(If you order greeting cards and a calendar both, unless you specify otherwise I will ship you the cards right away, then follow up with the calendar later in a separate shipment.)
THE 2014 WONDERMARK CALENDAR: AVAILABLE NOW. UPDATE: SOLD OUT!
Enliven your life in 2014 with 27 fortnights of Wondermark and Roll-a-Sketch!!