This post has a lot of big announcements in it!
More new products in the store!
An embarrassingly personal note from me.
In the last post about all my new stickers and pins, I teased that there would be more new products coming to the store soon. THAT DAY HAS COME.
In the studio, we've been making coasters out of cork! (Click the image for a closer look.)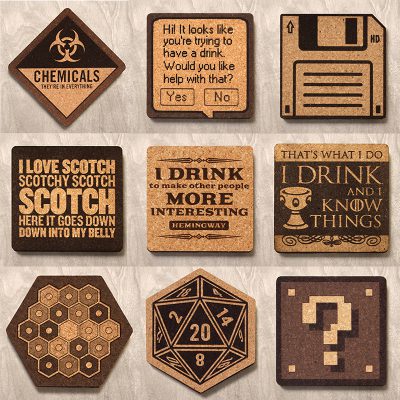 These are some of 15 different coaster designs to choose from.
If you've visited any of my convention tables recently, you've probably seen these!
The surface is laser-darkened cork, bonded with a central layer of acrylic for stiffness, then backed with a sheet of soft felt made out of recycled soda bottles.
I now have a selection of them in my store, along with some wooden magnets made using the very same laser.
[ Coasters at Wondermark Brand Dry-Goods ]
---
There's bonus content available on Patreon!
Patreon is a subscription site that lets you get bonus content from folks like me for just a couple bucks a month. Here's some of the stuff I've been posting to my own Patreon page lately:
I've started a new podcast, and you're invited!
It's called "Malki on the Mark", and it's all about the making of the next Wondermark strip collection.
Not only am I making a new Wondermark book—I'm recording a podcast along the way, all about the making of the book: https://t.co/nzhI1GyzG0 pic.twitter.com/TWXdrHtJCM

— David Malki ! (@malki) June 11, 2018
In this post I explain a bit more about what it's all about:
The podcast will be a sort of journal related specifically to the design, production, Kickstarting, printing, and fulfillment of this particular project.

You'll get to follow along through the entire process as I explain all the things that are happening behind the scenes with the production of the book, and the decisions being made along the way, that I normally wouldn't bother to share (but that end up making up most of the actual process).

If you're interested in book design, or crowdfunding, or project management generally, or just want to listen as I (SURELY) encounter unexpected problems and have to figure out how to deal with them, this will be the show for you…

My hope is that you'll find it interesting to follow along as I embark upon a project that will be sure to have lots of twists and turns!

Every time I do a big project like this I think, "If only I had been keeping a journal, or doing recordings along the way, to keep track of all the minutiae that readers and customers will never see, but that are a necessary and inevitable part of any project, and that I personally find fascinating."

Well, this time I'm doing it.
As I explain at greater length in the post I've quoted above, the podcast will be a reward for folks who support Wondermark by becoming monthly patrons.
I've posted six episodes so far.
Sometimes it's just me talking in EXCRUCIATING DETAIL about book design, and other times it's me talking with a comics-making pal!
To give you a sense of it, I've made Episode 4 (featuring a discussion on Kickstarter reward strategy with Sam & Fuzzy's Sam Logan) free for everyone. It's 43 minutes long.
[ Malki on the Mark Episode 4, feat. Sam Logan ] 
---
Patrons also have access to other behind-the-scenes series:
• 2 Minutes to Wondermark — timelapsed screen recordings (with after-the-fact commentary added) of me making each Wondermark strip.
Back in January, I started screen-recording the making of (almost) every comic, and with these commentary videos, I'm showing you the process.
Here's one that I posted recently:
• Archive Dive — in which I look back at various individual comics from the past 15+ years and explore common themes at absurd length, such as "Five Wondermarks Based on True Events" and "Five Wondermarks that Foresaw the Future".
• From the Roll-a-Sketch Vault — basically the same thing, but talking about what went into some of my favorite Roll-a-Sketch drawings, rather than comics!
These series are irregular and will be added to as time allows.
Of course you can also still get in on the final few months of Patreon-exclusive Wondermark Cast Cards — 2018 will be the last year the Cast Cards are offered.
Here are a few that went out to our monthly Cast Card subscribers earlier this summer!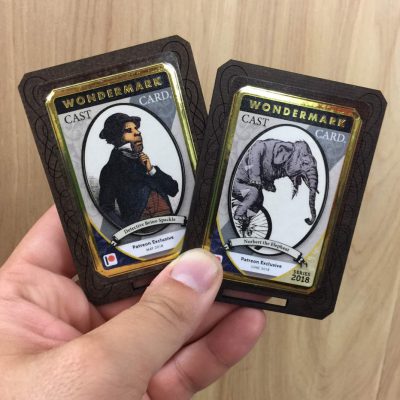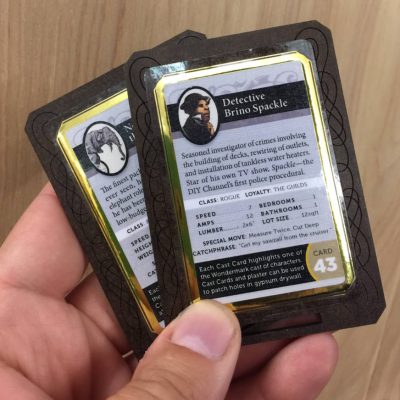 [ Subscribe to Wondermark on Patreon ]
---
Finally, a brief scheduling note.
In a couple days, I will be having surgery to remove a marble-sized mass from my right wrist/forearm.
It is (supposedly) minimally invasive surgery, but in advance I don't have a good indication of how much it will affect my ability to work. It's possible that my dominant hand will be immobilized for a period of some weeks.
I'm sure I will still be able to fill orders from the store, and I expect to figure out a way to make and post comics on something like a regular schedule, but just in case, I ask for your understanding in case the typical posting schedule ends up suffering somewhat.
I am a bit nervous about the upcoming recovery period (and the upcoming absurd medical bill, because we live in America), but the truth is I won't know anything definitive until it goes however it's going to go!
But don't worry — I'm confident we will be able to follow the Sick Elephant Saga of 2018 to its upcoming dramatic conclusion. (Or will it ever end????)
Anyway, friends, let's be real, this is a definitely a good time to pick up something from the store, or the other store, or to become a patron. Thanks for reading down this far!!