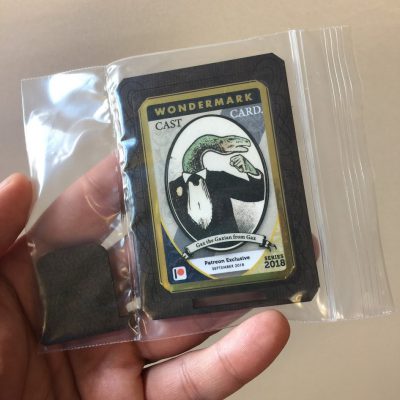 Since we are in the final few months of the availability of Wondermark Cast Cards (little commemorative plaques that celebrate the important moments we share), I thought I should point out that the card for September will feature celebrated terrible alien Gax.
There's a little less than a week left to claim the September card — just register for the Cast Card Subscription tier over on Patreon before the end of the month.
And then I'll send you this card — and, if you choose to remain a subscriber, another card each month until the end of the year!
I'm drawing the Cast Cards to a close because, real talk, they are incredibly laborious to create — we assemble each one here at the workshop out of laser-cut wood, color-printed labels, and gold-foil-stamped stickers.
So this will be one of your last chances to take advantage of my foolish ambition! My wrist surgery ended up being postponed due to surgeon illness, so I've got a reprieve of a little while to get these made and shipped for you.
We're also very close to the launch of a Kickstarter for the next Wondermark book — like, mere days away — and Patreon patrons (at any of our tiers) will get advance notice of that and possibly a chance to snag a book at a discount! Who can say!!