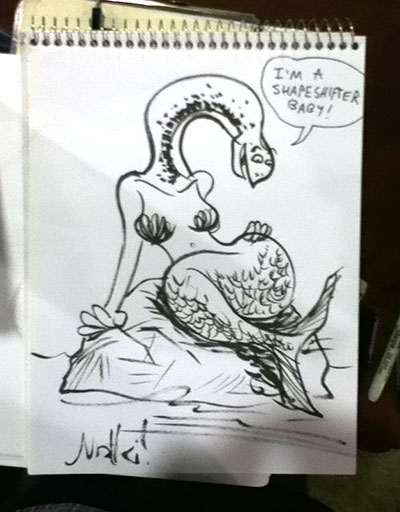 Here is a sketch I did at Heroes Con the other week! I believe the request was "mermaid." So I drew the only mermaid I knew how.
It planted a seed, though, so I decided to work on a more polished version of the same idea:
This final, inked version was donated to the Heroes Con Art Auction, the proceeds of which go toward putting on the show. But I know it will remain firmly in your hearts forevermore!
BONUS SKETCH:
This weekend I will be in Calgary for the Calgary Comics & Entertainment Expo! TopatoCo has a map of the show. It'll be my first time in Calgary, so I won't know any of the local customs. Please don't make fun of me for "shaking hands" — it is what we do where I come from.
What should I watch out for in Calgary? What faux pas will I certainly stumble into, without your kind guidance? Leave me a comment!
Finally, here is a little thing I wrote yesterday about a haircut that made me cry.