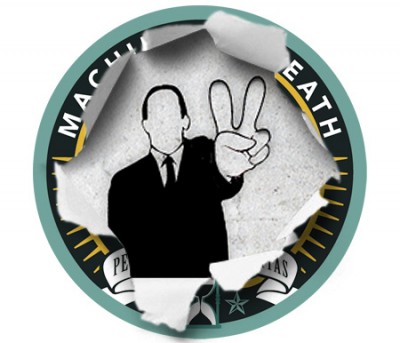 Machine of Death — the short story collection that I put together with Ryan North and Matthew Bennardo — continues to do great. We're well past 20,000 copies sold, with no end in sight, and we were one of Amazon's best-selling books of 2010. The reviews have continued to be overwhelmingly positive, and we keep doing strange things like inviting you to send us things in the mail.
Now we're doing another whole book! Because why not.
We expect the book will be out sometime in the middle of next year. But before we release the book, we need to make the book! Through July 15, 2011, we are accepting submissions of short stories and art portfolios for Machine of Death Volume 2.
I spoke to Chris Lough at Tor.com about the submission guidelines:
Are you hoping to see more genres come in? Not just SF, but fantasy, romance, steampunk, pulp, and so on?

DM: Yes, absolutely! The first anthology wasn't "hard" SF anyway, though the SF audience seems to have embraced it and it's now found on SF shelves in bookstores. But breaking out of genre is one of the great ways we hope to see folks broaden the content of the second volume.
We've posted, and will be continuing to post, some cool writer's resources for you on the MOD blog:
• Full submission guidelines for MOD2
• Direction for stories we'd like to see
• Insights into the selection process
• Tips for avoiding pitfalls in short fiction in general
And much more cool stuff in the archives at machineofdeath.net. Add the MOD RSS to your reader, or like us on Facebook, to stay up-to-date on MOD stuff! We keep coming up with new weird things to try, many of which you can be a part of.
The deadline for MOD2 submissions is July 15, so get cracking! And of course, if you don't know what any of this is about, you can check out Machine of Death Volume 1 as a free PDF, free podcast, or grab a copy in paper or electrons.