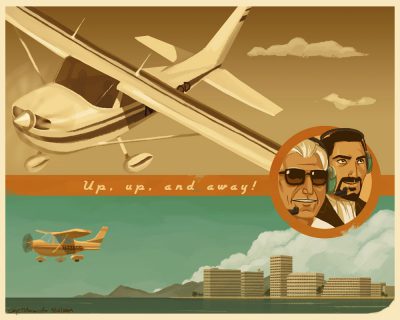 You know those days that come around every so often that plant flags in your life and scream, "You've come this far, there's no turning back now!"? Some call them milestones; others, churlish reminders of mortality. I just use the colloquial "birthday."
Well, I had one. And my wife surprised me with this lovely painting she'd (secretly) commissioned from our friend Carly Monardo. (Click the image above for a closer look.)
The painting is of me and my dad. Anyone's who's read my "One More Chance" essay may have an inkling of what this means to me.
It's hanging framed in my office right now, and every glance at it hits me with a miniature poke in the soft tissues. It's amazing what one work can simultaneously symbolize:
My relationship with my dad, whom I love and miss terribly;
My wife's cleverness and thoughtfulness;
My friend's artistic talent and in a broader sense, the friendships I've made and the experiences I've had in this exceptional career;
And even the idea of synthesis in general — it's a picture of me now, flying over the California coast where I live now, with the version of my dad and even the specific airplane that I remember from years ago.
It's a reminder that we're who and where we are because of many different factors that have propelled us to this place — and we've been molded and shaped and tempered by those who've loved, encouraged, supported and yes, even fought with us along the way. All those days were hammers and all the people blacksmiths, and we ourselves are yet glowing brightly.
dangit if Dad had been a metalworker that metaphor woulda worked PERFECT