Now Put A Bow On It
Continued from Part 1 / Part 2 / Part 3 / Part 4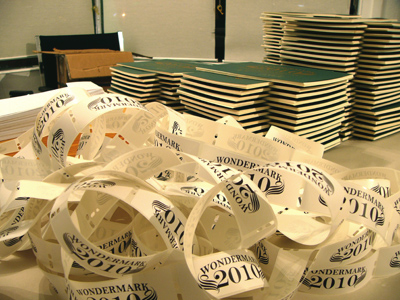 Although the printing is complete, and the room no longer smells like denatured alcohol & paint thinner (except for the splash I've added to my coffee for a little pick-me-up), there's a bit more to be done before the calendars are Formally Finished. Once the covers are signed and numbered, all the cards are collated into sets and double-checked to make sure nobody's getting two Augusts or getting shorted a February. Although I do want to sow a sense of existential ennui among the populace at large, we now have too many external calendar systems for any minor rebellion here to be tremendously effective, and I will save my efforts in that realm for more grandiose schemes.
Last year, we collated the cards by setting the stacks around a table and then continually circling the table over and over, picking up a card from each successive stack like it was the world's most obsessive comic-convention freebie table. That was a very dizzy way to do things. This year we just kinda put them in a long row and then walked down the row a bunch of times.
With the cards collated, they're then SEALED FOR YOUR PROTECTION into little capsule units that can be thrust headlong into our shipping workflow: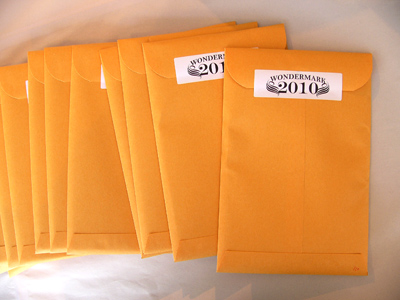 And these, along with the easels if desired, are what customers get! We spent the full day yesterday packaging and shipping, and I'm pleased to announce both that: all pending pre-orders have been sent, and all new orders are shipping out immediately. As of this writing, less than two dozen copies remain. Please, if you've been on the fence about ordering, don't delay — I'd hate for you to miss out. UPDATE: You guys are too much. They are all gone!
(I will also be a little sheepish here and say that if they sell out while I'm asleep tonight, and I'm unable to update the store in time, please forgive me if I have to write an apologetic email. Hopefully this won't happen.) ack
That buzzkill aside! I am so tremendously pleased with how this whole process has gone that I can hardly tell you. (Though you cannot fault me for trying.) Whether you buy a calendar or not, whether this has inspired you to make anything creative of your own or not, whether you're even the least bit interested in this process or not, I hope you take one key thing away from this entire, long-winded story. I'll put it on its own line and bold it so you're sure not to miss it:
You can make something from nothing.
Let me repeat that. You can make something from nothing. The Wondermark Calendar is not a model kit that we assembled from directions. It's not a box of LEGO® brand interlocking building blocks that we dumped onto the floor and then very precisely made into a spaceship. The LEGO® brand interlocking building blocks that we used were paper and ink. Any meaning that they have been given is meaning that we have fabricated.
You can do this too. I'm not saying you should necessarily make a calendar, or start hunting eBay for a GOCCO, or anything so specific — I'm saying that the tools and the effort and the materials and the sweat that went into our project are nothing my wife and I have a monopoly on. They are not hard to fathom nor out of reach. It just takes work: exposing yourself to ideas, swishing them around with other ideas and original notions, being a bit of a perfectionist at times, and just working at it. I know I'm never so satisfied with my job as when I sit down and make things that used to not exist.
(click)
I'm going to stop there; you can run with that ball anywhere you like, or leave it be, as you prefer. I just think it's neat that there was nothing and then I had some cockamamie idea and figured out where to buy paper and stuff and then, a bunch of man-hours and problem-solving later, there is something. This is a thing we wrestled into existence. If you buy one of our things, you will be getting a tidy little package made of paper, ink, brass, and force of will.
If this calendar stays in your house, in the most quiet stillness of an afternoon when everything is at an ebb — if you get very close, close enough to see the fibers and detect the thin mounding of the ink over the paper — and if you hold your breath and if your refrigerator isn't on and if the pets are all napping and nobody's trying to email you right then —
— If the rest of the world is silent, and if the light catches it just perfectly right, I do believe you will see this thing's heartbeat.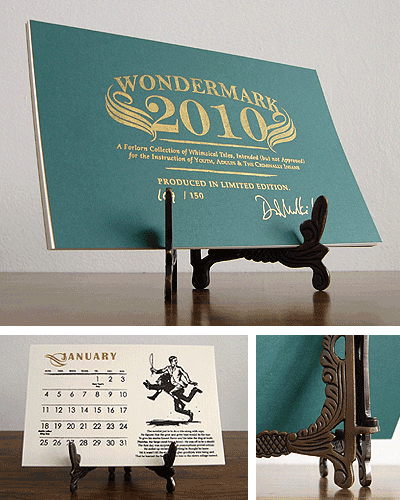 Thanks very much for all your kind attention this week, and for your wonderfully flattering patronage. While I was writing this, I went back and checked and it looks like one more has sold. I am serious. Get one now, if ever. UPDATE: They are gone, compadre. Wowsers.
---
That being said, I understand that this isn't for everyone, and to those folks, sorry for hammering on this point all week. Thank you, regardless — I will make other things, on other days, for free most of the time, and presumably you will be able to share in those. It's been a fun week but it ain't over yet so now I am going to go to bed.