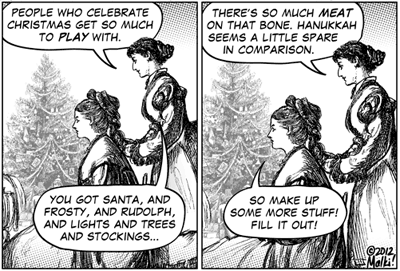 In case you missed it last year, I wrote a comic in which a character posits the existence of the "Hanukkah duck," (or here on Tumblr), who quacks you a puzzle, as a way of filling out the canon of Hanukkah traditions relative to Christmas.
I feel it is my civic duty to remind you that soon after that comic was posted, readers Keith Ammann and Cantor Yakov Hadash wrote and performed a Yiddish song about said Hanukkah Duck.
Die Katschke Chaneke / The Chanukah Duck
this is why my job is the best job
ALSO: Holiday cards are now on sale. Two new designs will be revealed later this week. 2014 Calendars will be announced later this week as well.
ALSO ALSO: I will be in Austin, Texas this coming weekend!