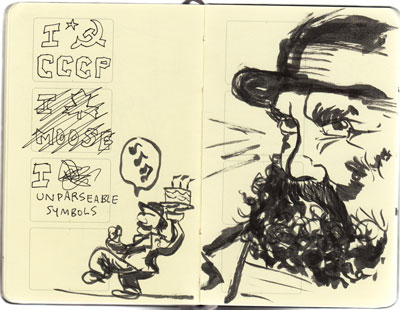 At any given time, I'm working on a half-dozen different projects: making comics, of course; designing books; hashing out ideas for prints or posters or shirts or what-have-you; and often, creating logos and layouts for stuff that may not see the light of day for months, if ever. Sometimes I get a little antsy and post previews or sneak-peeks on my Twitter, but that's very limited in its scope, and I'd like to share more, and in different ways.
However, I am also very sensitive to the fact that you come here to read comics (with the occasional other nonsense), and you may not want half-complete junk-in-progress, or long chunks of prose, or stuff wholly unrelated to Wondermark in your feed reader or email inbox. Personally, I'm in favor of littering this site with everything I do, but this site doesn't just belong to me anymore; it belongs to you too. So I'd like to ask your opinion — where should I put miscellaneous stuff? We're talking half-finished comics. We're talking chapters from novels, potentially. We're talking sketches and designs and journal-type entries and probably stuff related to Tweet Me Harder and other projects. I figure there are three options:
Keep it at Wondermark. I'm a big believer in not fragmenting one's online presence more than necessary, and Wondermark is potentially a broad enough umbrella to encompass everything I do. Besides, you could just ignore the stuff you don't want to read.
Move it offsite. I'd probably start a Tumblr and start posting over there. That has an advantage in that I wouldn't feel self-conscious about posting non-comics-related stuff there, but I'd hate for that to be so separate from Wondermark that nobody bothered to visit.
Move it offsite, but post a weekly digest on Wondermark. I'd put all the nonsense on the other site, but on Wondermark there'd be one post a week (if that) listing the highlights. So you'd still stay abreast of any cool stuff over there, but if you were only subscribed to Wondermark it wouldn't be tons of posts in your feed reader or email.
Here's a poll!