Here's a little update on our Chessboard Wall Buddies! (Just one of the eight different designs available in our Kickstarter project.) Update: The campaign is over! Thanks everyone!
Thanks to a suggestion by my good friend Joey Comeau, for a small extra charge we can now CUSTOMIZE the position of the pieces to your preference:
So, if you want to commemorate a famous or personally significant game, or would like to construct a mate puzzle, or just want to make some weird arrangement, we can now make that for you!
Otherwise, if one orders the Chess Buddy without specifying, we'll send the 1.e4 position pictured at top.
To specify a custom position, pledge for any tier and add $10.02 to whatever your pledge amount would otherwise be. The ten dollars covers the extra work for customization and the .02 is a way to help us tell at a glance which orders should be the custom ones. We will send an email asking about the custom instructions before we ship the order!
Some possible custom positions might be:
a final position from a famous game, such as the IMMORTAL GAME or the EVERGREEN GAME;
a surprising position worth contemplating and marveling over, such as one from Fischer-Spassky 1972;
Humanity's Last Stand — a position before Kasparov's first loss to Deep Blue;
a dramatic position in which EVERY PAWN has been promoted, to inspire heart attacks in viewers;
a diagrammatic representation of a real-life conflict such as the Battle of Agincourt, in which a series of knights face off against many pawns;
a bucolic peacetime scene, in which pawns keep patrol around scattered rooks;
a diorama of the G20 summit, full of intermingled kings and queens;
a monastery crammed with 64 bishops;
your sweetie's initials spelled out in rooks;
or, of course, The Proletariat Revolution Reaches The Stables: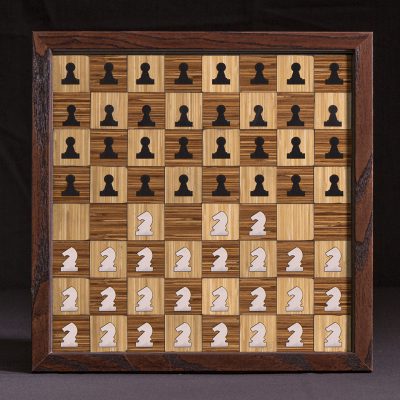 Any legal or illegal position or combination of pieces is possible. $10.02 added to any base pledge amount lets us know you'd like a custom layout! (And for more than one custom chessboard, add the extra $10.02 for each, natch).