I have made a poster version of the Zoological Times Table! It is REVISED AND EXPANDED from the version that first ran here on the site, with several new animals added. You can get the lovely 16 x 20″ poster in my TopatoCo store!
If you ALREADY ordered a print (via the "Buy a print" button or the Comic Prints page), you'll get this poster version automatically! Hooray!
BUT WAIT
The Zoological Times Table is only the latest of my Educational Posters, which include:
• the Hierarchy of Beards
• the Tinkerer's Rules
• Supernatural Collective Nouns, and
• the Genre-Fiction Generator
Now, for the first time you can get all these posters in a handy combo pack — with a sixth bonus poster included for free!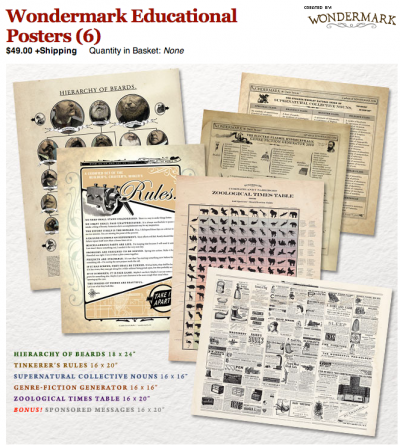 The bonus poster is something I'm calling Sponsored Messages. It's a full collection of advertisements and catalog entries from a wide variety of Wondermark printed matter — the book collections and also smaller-run pieces you may not have seen, plus a bit of new material. Click below for a closer look!
The Sponsored Messages poster, for now, is only available as part of the poster combo pack.
And hey, why not top it all off with some…PIRANHAMOOSE STICKY NOTES
These are…what's the word?…awesome
For a closer look at all of the posters, I posted them on my Tumblr too!
All this stuff — and much more! — is available now in my TopatoCo store.