The newest items in my TopatoCo store are these Stealth Sketchbooks! They were created by me and Kris Straub.
The three launch titles for the new imprint are:
Dating Tips For Time Travelers: A Handbook of Courtship From the Fertile Crescent to the Summer of Love by Victoria Clox (80 pages)
Jefferson the Cannibal President: The Shocking True Story of How Our Third President Dined Exclusively on Human Flesh (And Devoured Everyone Who Knew About It) by Gertrude N.T. Fordham, P.I. (112 pages)
Shakespeare for Infants: Much Ado About Colors! And Other Lessons (Pre-Verbal Learning System for Ages 0-4 Months) (112 pages)
They are self-evidently great books that anybody would be proud to own, peruse, and/or display in one's place of occupancy — OBVIOUSLY.
They are also, in fact, all BLANK INSIDE. They're sketchbooks!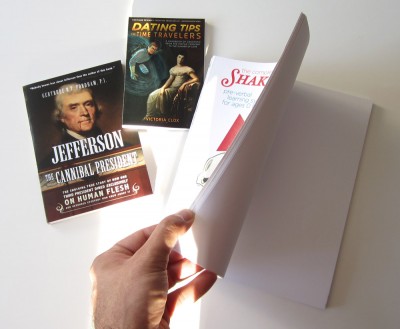 Take notes in a meeting! Peruse on public transit! Great for chem lab or legal depositions. STEALTH SKETCHBOOKS.
It's so very satisfying when a project can survive the entire process from "kinda dumb idea" through "halfway done for a while now" all the very long way to "Hey here it is, it's complete and you can have it!" This one has been a long time coming, longer than most.
Kris and I originally conceptualized a set of book jackets, starting with the "Disguise Mode" that we came up with for our collaborative book collection, Hey World Here Are Some Suggestions. (Conceal what you're reading, by making a regular book look like a different, weirder book.) This was during the heyday of our comedy podcast, Tweet Me Harder!
IN FACT, we have JUST POSTED a new Tweet Me Harder episode, featuring a behind-the-scenes listen to the day we brainstormed these very items! You can listen to it now on the TMH site (or, if you've never heard the show, the whole catalog is still available for free on iTunes).
The sketchbooks (slash notebooks slash dream journals slash catalogs of regets) are available individually or in a 3-pack, and there are a bunch more pictures here too. GUYS THERE ARE JOKES ON THE BACK COVERS
SPEAKING OF TWEET ME HARDER
I'm really proud of what we did with TMH for those few years, and personality-wise I'm not very good at concluding things. I always want to keep all projects going forever in dribs and drabs, hoping for some final master stroke that never comes, afraid that everything that's been labored over for so long will just be scattered and forgotten if it's not somehow kept alive until the sun falls into the ocean.
Today marks ELEVEN YEARS of doing Wondermark, and my trophy case of ideas, projects, accomplishments, failures, and cluttery, strange curios still continues to grow more populated every day. TMH is one of those curios, a teal-colored, joyful thing that I'm happy to have done, look back on fondly, and hope is remembered by others as well.
So it's with all that in mind that I present: The Tweet Me Harder Complete Thumb Drive. It's got 80 hours of audio (remastered from the podcast versions for better listening quality), plus all the videos, promos, songs, and graphics that we made over the run of the show, including a PDF of the aforementioned book!
There's even another bonus episode (never before released online) available only on this drive. It's a master copy of all of TMH in one handy, complete volume! In the way that a comic strip might end with a lovely hardbound omnibus collection that can sit proudly upon a shelf, this is the omnibus TMH, preserved for posterity and ready to be enjoyed at any time, or even discovered anew. Until USB as a format is deprecated, anyway, but that probably won't be for another couple hundred years.
If you've ever listened to TMH and enjoyed it, this is our way of giving you a little artifact, a chipped-off shard of it to keep, a definitive "thanks for all the fish" from Kris and me to all the listeners who meant so much to us over those years.
Also it's a funny show if you've never heard it! I think so, anyway, and I'm a professional humorist or whatever!