Here are a few of the many Roll-a-Sketch drawings I did for folks in Seattle a couple weeks ago!!
Roll-a-Sketch drawings, of course, have their elements generated from lists of attributes by the rolling of dice! Like this CROCODILE + WHALE + POLICE + VICTORIAN:
Or this ELEPHANT + CACTUS + ROBOT + VICTORIAN: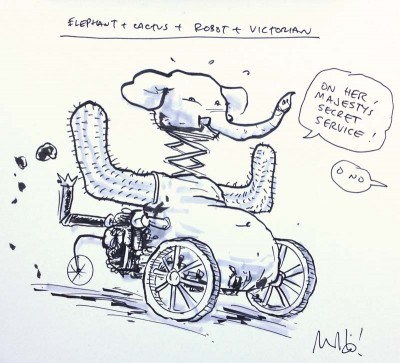 Or his buddy/long-lost twin (we decided), ELEPHANT + CACTUS + HELICOPTER + BATMAN: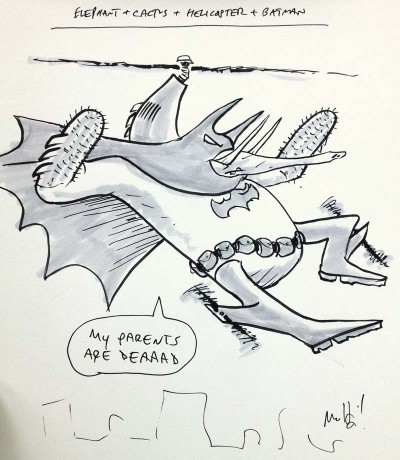 Finally, that old chestnut, the BEAR + ANGEL + SPORTS + CLOWN:
Would you like to get your very own Roll-a-Sketch? I will be at WonderCon tomorrow, in Anaheim!
IMPORTANT: I will not be there the whole weekend, and I will not have a table! I'll be around on Friday the 18th only, to check out the show and visit friends.
BUT: A few times during the day I'll set up shop for Roll-a-Sketches!
If you will be at WonderCon tomorrow, and you would like me to text you when I'm doing sketches, here is a form:
(Update: form removed! We're done with that)
I'll only text you tomorrow, up to three times maybe, to let you know where I'll be — then I'll delete your number when I leave. Is it weird? I dunno!! GO FOR IT
Just look for this!!
Will I have a banner fluttering from a flagpole like a royal herald?
I DON'T SEE WHY NOT