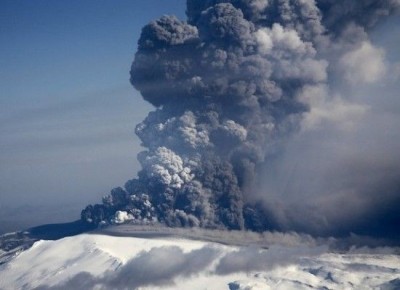 Science-Doktor Vondurdauðahöfuðkúpa watched through the tall, sloped windows as Eyjafjallajökull began to spew clouds of brown, billowing ash.
"This will prove that I am serious," he sneered, checking his command console for the blinking light that would indicate a phone message. Those fools at NATO headquarters had missed the deadline to respond — and now had paid for their impudence.
"Seriously weak," came an echoing voice. Vondurdauðahöfuðkúpa whirled. Bond. But no matter — the volcano had been triggered. The Englishman was too late.
"It's no use, 007," Vondurdauðahöfuðkúpa shouted, pulling the Beretta PM12 into his hands. "There's no stopping the volcano now! Europe will be blanketed in ash within days! They tried to play games with me," he said, cocking the submachine gun and tracking the spy's slow walk across the polished marble floor. Bond's confident posture angered him. What did he have to be confident about? "Now they realize what a threat I really am!"
"I'm surprised you had the money to pull this off, Vondurdog," Bond said coolly, tracing a finger along the lines of the command console. He looked like he was itching to turn a knob, press a button… but the spy showed commendable restraint. "After the whole banking debacle. You must have been very well invested."
Vondurdauðahöfuðkúpa fumed. He knew. He had to know! "The Icelandic government is very hard-headed, it seems," he growled. "I had a very simple ransom demand — and was left without even the courtesy of a reply. After that exercise of my power, you would have thought the world would have learned to listen!"
"Tsk, tsk, temper temper," Bond cooed, and Vondurdauðahöfuðkúpa brought the Beretta up in rage. BRAPPPPP — Bond dove — and the geologic destabilizer controls went up in a shower of sparks. That cost fifty thousand krónur! Bond had goaded him into it. The rat was nowhere to be seen.
"This is just the beginning," Vondurdauðahöfuðkúpa crowed to the empty room, slowly circling with the gun at the ready. Where was he hiding? "Eyjafjallajökull was just a throat-clearing. If my demands are not met, Katla will be triggered next — and it will drown all of Europe beneath a sea of ash and magma!"
"That'd be a good trick," came the voice from across the room, and Vondurdauðahöfuðkúpa whirled, firing another long burst into the far corner. The glass face of the seismolostroyer console disintegrated into green dust. And with the click of his empty gun, Vondurdauðahöfuðkúpa knew it was over. Bond's shadow felt somehow cold as it covered him.
Vondurdauðahöfuðkúpa spun quickly and tripped the spy. Bond's voice-transmitter still active, the cry of pain seemed to come from the far corner of the room. A clever ruse! As Bond hit the ground, Vondurdauðahöfuðkúpa stomped on his wrist to dislodge the Walther from his hand — but Bond wrapped a leg around Vondurdauðahöfuðkúpa's knees and brought the Science-Doktor down with him. They fought for the gun in silence, the sky outside darkening with the growing cloud from Eyjafjallajökull.
A shot rang out! Vondurdauðahöfuðkúpa flinched, his ears ringing from the sound and his hands burning from the powder — but he felt no bee-sting of a bullet, only the thin hum of some far-off machine spurting to life. "You'll have to do better than that, 007," he growled. But the spy only smiled.
The geologic destabilizer's agitation-paddle caught Vondurdauðahöfuðkúpa in the side of the head, wrapping its auger-talons around his jaw and skull and dragging him across the room, chewing a furrow in the hard black floor. Vondurdauðahöfuðkúpa pulled at the talons with his fingers, but they were double-bonded titanium, designed to fight the pressures of plate tectonics. A man was no match for them — less so, a pane of tempered glass. The paddle pushed Vondurdauðahöfuðkúpa through the window and out into open air.
Then it stopped, the long arm of the paddle hovering above the burning, roiling mouth of Eyjafjallajökull, shards of glass falling to vaporize in mid-air. Vondurdauðahöfuðkúpa gaped back at Bond, who delicately brushed dust from the shoulders of his jacket.
"Well, do it," Vondurdauðahöfuðkúpa squealed with as much force as his tight-gripped throat could muster, kicking his legs in the ash above the long drop to Hell. But Bond only smiled.
"Do you want to know why NATO never called?" he shouted through the window at Vondurdauðahöfuðkúpa. "Do you wonder why your ransom demands were never answered? Why nobody trembled in fear when you threatened to collapse the banks, or trigger the volcano?"
And then, as Vondurdauðahöfuðkúpa's eyes bugged out high above the flaming glacier, Bond held up a single, severed telephone cable.
"They never even knew it was you."