Here are a few of the many Roll-a-Sketch drawings I did at Maker Faire this year!
Thank you to everyone who came by and said hello; I saw a lot of returning faces. Maker Faire is a super fun environment to be immersed in for a few days — you're surrounded by robots, and art cars, and 3D printers, and drones, and everyone's just interesting. I had many lovely and surprising conversations with creative folks.
I have never been to any of the other, subsidiary Maker Faires — only the flagship show in San Mateo, which has a wholly enclosed, Vatican-City-style craft fair section that is technically what I am there as part of. But in the coming year I hope to make fewer papergoods and more tangible "weird things" so who knows, there may be room for me at another city's Maker Faire yet.
FLAMINGO + TELEPHONE:
BLENDER + ROLLER DERBY: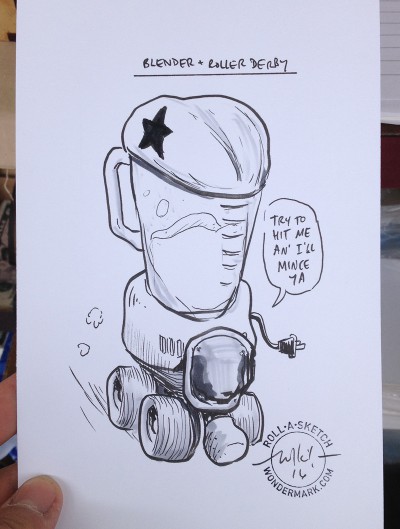 SNOWMAN + BUG: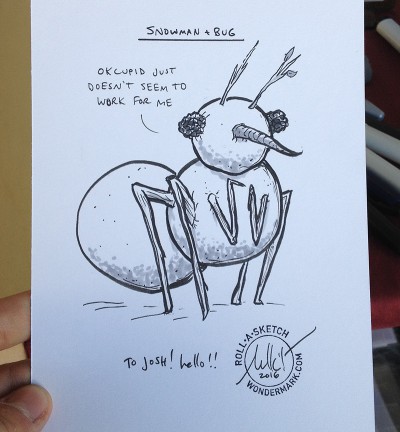 PUNISHER + 8-BALL:
VEGETABLE + VIKING + BATMAN + CINDER BLOCK:
BLENDER + COP + BUTLER + BEAR: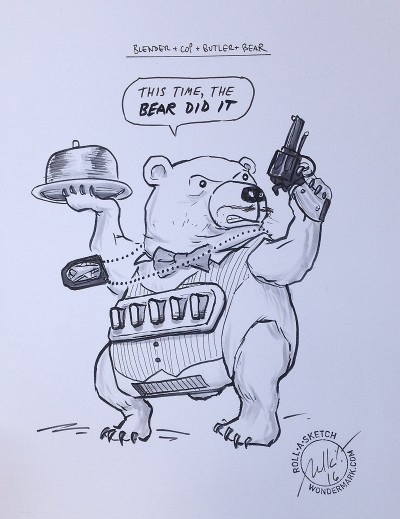 WALRUS + HELICOPTER + DOLPHIN + 8-BALL: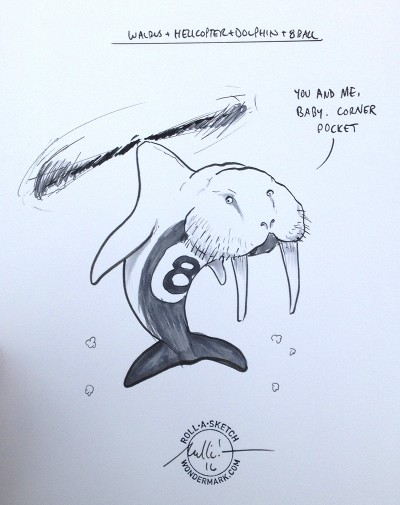 ALSO: We're getting close to the end of May, which means it's time to reveal the Wondermark Cast Card that'll be going out to Patreon subscribers!
This month's card features Boutrous, the camel from the classic Wondermark #558, "In which a Camel is merely ordinary".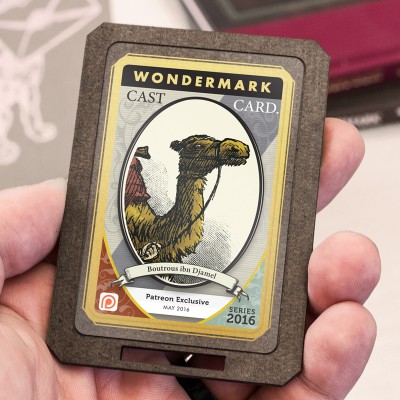 (This particular comic was also narrated in audio form by voice actor SungWon Cho, here. It's…super good.)
The monthly Patreon Cast Card subscription, so far, has been going out to a HIGHLY EXCLUSIVE GROUP. Later in the year, there will be another new "achievement" Cast Card that you'll be able to get in a different way… And of course, the Roll-a-Sketch "Patron of the Arts" card is available at all my convention appearances this year.
Thank you very much to all you Patreonauts, at any level! We're very close to a $500 goal that will prompt the start of a monthly annotation series, in which I go back through the archives and puzzle out just what I was thinking for comics deep in the archive.
Last month we crossed the THIRTEEN YEAR MARK with Wondermark. A decade ago, I was a very different person, in a very different place in my life. I don't write comics the same way now as I did then, mostly for the better (I hope), but who knows. I think it'll be interesting to go back and interrogate my younger self. That'll become a monthly thing once we crest $500 on Patreon.
I am very grateful for your support via any method: Patreon, the store, saying hello at a show, or just a word to a friend. I'm thankful for every kindness — it's always been, and continues to be, a privilege to do this for you, and by reading this you are by definition a Cool Person with Good Taste.
NICE
WORK