Here are some Roll-a-Sketches from recent shows! It's funny how the dice work — even though it's random, often a given element will pop up over and over for a while. Just the nature of chance, I guess! This bunch had a lot of mermaids in it. Saucy mermaids, as you can see!
RHINO + MERMAID: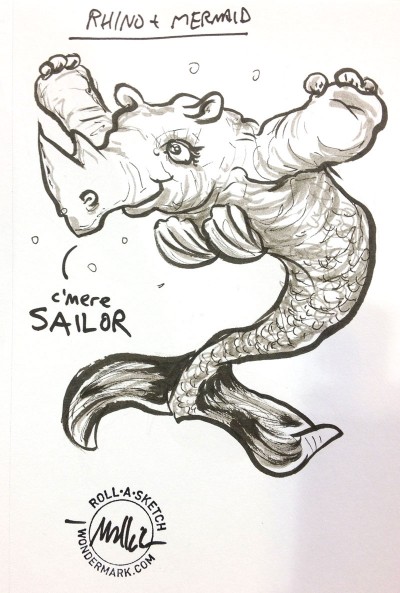 CACTUS + MERMAID:
BEAR + SHARK + MERMAID + TANK: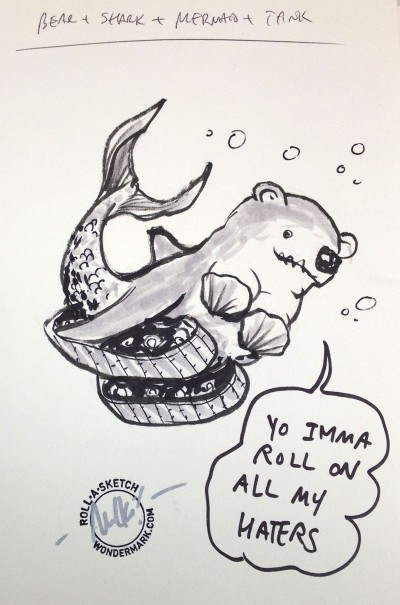 MERMAID + HAMBURGER:
And just for good measure, HAMBURGER + GIRAFFE: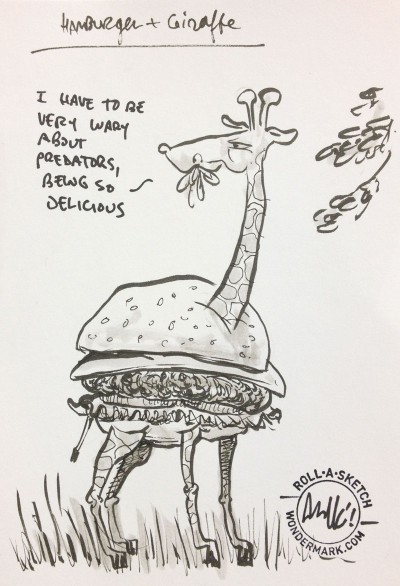 If you'll be at the San Diego Comic-Con this week, come and get your own Roll-a-Sketch from me at booth #1229! (Mnemonic to remember: just think 1-2-3-4. We're like 10 feet away from #1234.)
I'll be there the whole time except for Friday morning from 11-12, when Ryan North and I will be signing copies of This Is How You Die at the Hachette booth, just an aisle away at #1116.
Comic-Con will mark the ONE YEAR ANNIVERSARY of the invention of the Roll-a-Sketch. I will celebrate it by continuing to populate the strange world that all of these creatures live in. IT IS MY HONOR AND MY DUTY.