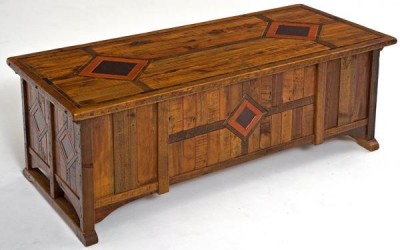 (A barnwood desk from Woodland Creek Furniture)
I thought I would take a moment to address a question that's come up before, but has been asked again recently upon the announcement of my Hendrick's Artist Box — whether I really do cut up old books and magazines, and whether such a thing is proper. Marksman Gemmel D. wrote me today:
Dear Mr. Malki,

I discovered your web comic a few months ago, and it has made me laugh countless times. You are a truly creative person, with a sense of humour I can appreciate.

That being said, I fear I must admit to being appalled at the way you decorated your box for the Hendrick's Gin Curate a Box project.

I understand that you make collages of 19th century images to create your pieces, but I naively assumed that you made copies, not that you actually cut up these publications.

I must say I am a little upset. Old books, magazines and newspapers are important artifacts; They tell us things about our history and our society that the history books can't. In fact, they are a priceless resource for historians and genealogists, sociologists and anthropologists.

If it can be avoided, they shouldn't be destroyed, even to make art.

Please don't think I'm being pushy or overbearing, but Is there any way you could make or use copies of these texts, and preserve the originals for future posterity? You must have a large collection of fine pieces – the pages used for the Hendrick's box were from Scientific American and Punch magazine. I don't need to tell you that Punch was one the first satirical magazines, and great writers like William Makepeace Thackeray wrote for it.

Any library or University would probably love to have your collection in later years. Your collection could be invaluable for future generations, but not if it is cut to bits.

If you read all the way to the end of this e-mail, I thank you for hearing me out. I'm not trying to tell you how to do your work; I know nothing about art, and can't even draw a straight line properly. I'll even understand if you're angry at me. But I do feel that we should preserve as much of our past as we possibly can.
This is a serious issue, and one that I want to clarify for the record. Here's the response I wrote:
Thanks for the note. I agree that old things have value, and should be preserved. That's part of why I love doing Wondermark — I get to take things that very few people get to see nowadays, and reinvent them and share them with a wider audience.

To make my regular comics, I work entirely from digital scans of the original work. I have a large library that is not depleted in any way by the work I do.

But to make the Hendrick's box, I wanted to do something different. I perhaps did not make clear enough that the work I cut up for the box was all, essentially, trash — the Punch pages were from a volume that was rotting and falling apart; the Dickens covers were received in a dusty box that was basically just a heap of paper. I have made a habit of accepting, and deliberately acquiring, material like this that otherwise would just go in the garbage. I buy books on eBay with tobacco stains, children's crayon marks and missing covers that collectors and historians have no want nor need of. The life I give them, in the main, is life they otherwise would not have.

I have not made that as clear as I perhaps could have, for folks who are less familiar with my process than I myself am. I hope that sets your mind at ease somewhat.
It would be a tragedy to tear down a barn simply to make a desk. But I believe it is an art to take the planks from a barn that has already been condemned, and make a lovely desk from them. Thanks for the email, Gemmel.