Here's a genuine photo of the set of five "Mini Buddy" magnets that you can get exclusively (for the time being) with an order of the 2018 Wondermark calendar!
The frames are wood; the inserts are acrylic, and they are each backed with a strong neodymium magnet that can hold up to 12 sheets of paper to your fridge. I checked.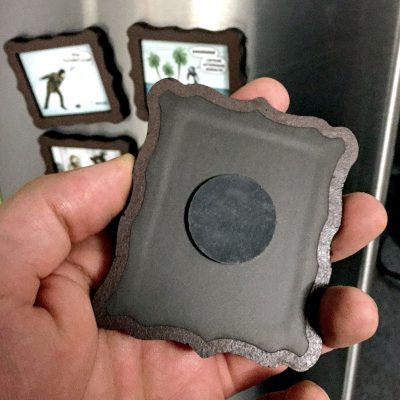 Thanks to everyone who's put in an order for calendars! About 2/3 of our limited run have already been claimed; the rest are still up for grabs.
Thank you as well to those of you who've specified "No rush" with your order. I will be doing a separate batch of shipments after Christmas with the orders that I know don't necessarily need to be received immediately for reasons of gifting. Gifts to yourself can be given and received anytime!
Also, y'know, Christmas is technically 12 days long. Look it up!
If you have ordered already and would like me to de-prioritize your order (in exchange for a bonus goodie added when it ships), please feel free to reply to your order confirmation email and let me know.
There unfortunately has been a slowdown at the printer, so the finished calendars have not begun shipping yet — believe me, I'm waiting INCREDIBLY EAGERLY to start shoving these out into the mail before Christmas. If I know there are some orders that don't actually need to go out right away, it is a big help.
Updated to add: Unfortunately I learned today that the printer was unable to complete the calendars before I have to leave town. This means ALL calendar orders will ship after Christmas. I will email everyone who didn't specify "No Rush" to give you more info! And know that you can still place a new order if you like, just know it will DEFINITELY ship with the January batch.
I feel bad even having to raise the issue, but you (Wondermark readers as a class of person) have always been very understanding with that sort of thing and I appreciate it very much.
The calendars will stay on sale until they sell out, but any orders placed after Wednesday will have to wait for the second shipping batch by default. Just so you know and can plan your life accordingly!!