Pleased to announce that this week we're finishing shipping all outstanding orders for the 2018 Wondermark Calendars!
Thanks to everyone who's snagged a copy; if you don't have yours in hand yet, you will have it very soon.
And because I launched it later than usual this year, we still have some copies available! The last few dozen of the limited run.
If you haven't already claimed one, you can place an order right now and we'll ship it without delay!
Here's what the finished, printed thing looks like:
There are a lot of pages and they all have delightful illustrations on them!
This year, the calendar is the Santarelli & Sons Expert Thingsmiths' Catalog of Contraptions, filled with strange devices and impractical contrivances to solve your everyday problems.
Let Edouardo Santarelli and his competent sons Drachma and Leopolt show you their peculiar wares, all year long.
"But David," I hear you saying, "it's already 2018! It's MULTIPLE DAYS INTO 2018! Don't calendars go bad if you don't open them right at the start of the year? Isn't part of that calendar NOW UNUSABLE, with days that have past into the black mist of eternity and already been utterly forgotten by me and anyone else who might look at this calendar??"
How right you are! That is why I am willing to credit you the value of ONE FULL 2018 WEEK with your purchase of a 2018 calendar.
Simply use discount code ITSJANUARY at checkout, and you will be given a discount of 1/52 off the price of the calendar.
Any calendar stand you have from any previous Wondermark calendar will also work with this year's cards! You only need the refill cards.
BUT, as you can see in the pictures, we have a new stand design this year! You can get one of them if you choose; we have modified the base design this year to better match the theme of the 2018 calendar.
An optional upgrade if you like!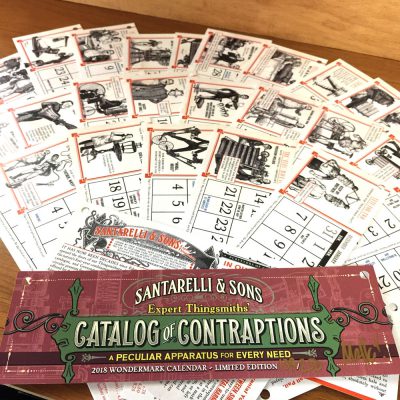 Every individual copy of the calendar is signed and numbered by me:
And of course every order ships with a unique Wondermark Cast Card! This one features Mr Santarelli himself – and if you are a calendar patron of 5 years or more, simply mention so at checkout and we'll include a special Calendar Ace card as well.
That is all! I just wanted to share these nice pictures with you.
Again, thanks very much if you've already ordered yours and there's still a little bit of time if you haven't! I'll probably shut up about this in a week or so.