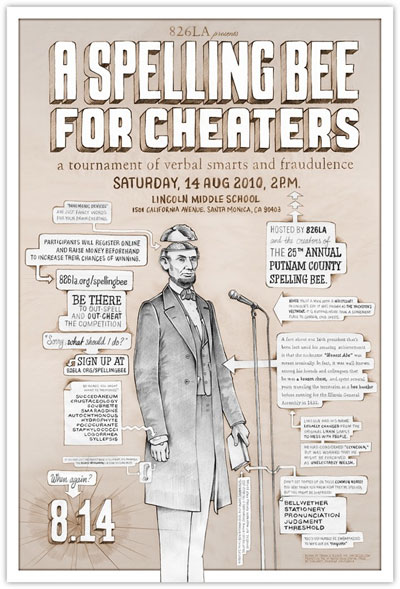 Maybe you've heard of 826 Valencia, the organization founded by Dave Eggers that helps 6- to 18-year-olds with writing skills through community events and after-school tutoring. 826 has several branches nationwide, and my local chapter, 826LA, has its office just down the street from mine! In fact, I pass it every day on my way to work. My friend and fellow cartoonist Keith Knight is on the board of directors there, and when he invited me to participate in a fundraising event for 826LA, I gladly agreed!
It's called "A Spelling Bee For Cheaters" and it takes place August 14 in Santa Monica, CA. Keith, Dave Kellett and I are on a team called "The Sweaty Hams," because we are all men and, well, sometimes things happen. We're somewhat late-comers to the fundraising game, so we are trying to raise pledges to buy "cheats" so we can be competitive in the event!
Cheats include passing on a difficult word, buying immunity after spelling a word wrong, swapping places with another team member, and other non-officially-endorsed-by-the-American-Spelling-Association deviousnesses. (See how I used a word that's probably not in their official lexicon?) We only get cheats — and thus, a fighting chance against the other teams with loads of cheats — if we raise money! 826LA is a volunteer-based organization that helps kids in a number of remarkable and wonderful ways. Will you please help our team with a donation?
The event is less than two weeks away and thanks to rudderless team leadership we are entering the fundraising race way at the back of the pack. PLEASE DO NOT LET US FAIL IN THIS
AS WE DO MOST EVERYTHING ELSE