Thanks for over 400 great entries in the caption contest! You can read them all (except for the ones I got via email, I guess) on the Wondermark Facebook page. Common themes included: "The [something] was THIS BIG," clumsy pick-up lines, turkey/cock puns, and long Dickensian dialogues.
HONORABLE MENTIONS
"You see, turkeys ain't phony like some people." — Abigail Lee Kirkwood
"Hey. My eyes are up here." — Myles C. Wirth
"…So the moral of that story is, NEVER ask a Pilgrim to pimp your ride!" — Donna Teague

"I was THIS close to making the bus." — Elizabeth Hardy
"Where I come from, 'tis the horses that be yea big." — Noelle Reed
"Guess who ate the biggest omelette of his life this morning?" — Matt Perkins
"It's a fixie." — Abigail Lee Kirkwood
"Before you say anything, I'd like you to know that I got the salesman to throw in a free grooming kit." — Michael McLaren
"One does not simply walk into Mordor." — Ross Boozer
"Relax, it's merely a novelty beanbag cover draped over an enormous spider." — Mike Finke
"…and so, I rubbed the lamp, and wished for a chick with huge breasts." — Gabriel Frank & Vijay Welch
"No, actually, we're just tiny people." — Justin Hoeger
And the winner is: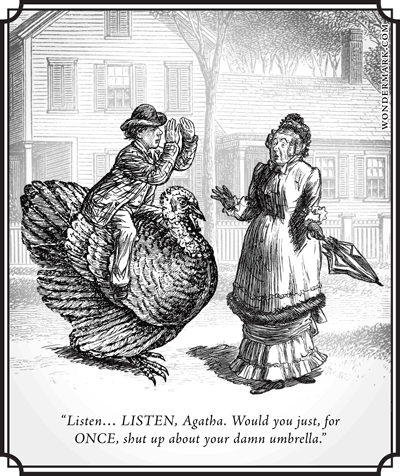 Congratulations to David Marks! David will be receiving a signed, personalized print of this cartoon with his caption.
This was fun! Thanks so much to everyone who entered. SHALL WE DO IT AGAIN??? I think we shall, very soon — watch the Facebook page for the announcement!