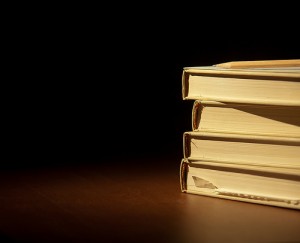 Flickr photo by shutterhacks
In 2012 I actually managed to keep track of all the books I read (I think), using Goodreads! I track my reading there, but I don't star or review anything because I don't tend to dice my opinions that finely. I just like to have a pleasant time reading!
Though, I do often read others' reviews to see if I agree or disagree. Most commonly what happens is that a reviewer will point out something bad about a book I enjoyed that I didn't notice, and it'll make me think "Huh, I guess that WAS dumb." So in general, reading reviews makes me dislike things more. HOORAY FOR WEB 2.0
Not counted here are TopatoCo books that I read for work, books that I began but did not finish in 2012 (I'm still chipping away at a couple different anthologies), or books that I started but abandoned (looking at you, Pygmy by Chuck Palahniuk). Also not mentioned are books that I began BEFORE 2012 and STILL did not finish by the end of the year. ALSO ALSO not mentioned are books that I did not start, finish, read any of, or hear about in 2012. So this is an incomplete list of all the books in the world, for which I apologize.
I also find it interesting to note how I obtained the book and the format I read it in. Los Angeles has a great public library system, so if I hear about a book I'd like to read, I'll often just look it up right away and put it on hold. Of course my shelves are also bursting with other books I obtained but haven't yet read, and who knows, they may show up on any list from 2013-2113. STAY TUNED.
ANYWAY….ROUGHLY IN ORDER
Chess Story by Stefan Zweig
Format: Hardcopy received as a gift
Joey Comeau recommended this book on Twitter, so I put it on my Christmas list last year. It's short, thought-provoking, and strange. Recommended.
Tom Swift and His Airship by "Victor Appleton" (1910)
Format: Free ebook from Google Books
I love old youth-adventure books (usually ironically) and I love flying (sincerely). This one is pretty execrable, but it's got its kitschy charms.
Bible Camp Bloodbath by Joey Comeau
Format: Electronically via Joey's website
Just what it says on the tin!
The Flying Girl and Her Chum by Edith Van Dyne (1912)
Format: Free ebook from Google Books
Read this for kitsch and actually fell in love with it. Discovered that "Edith Van Dyne" was actually one of L. Frank Baum's many pseudonyms. Despite about three severely head-shaking moments, this is a legitimately great YA adventure book with female heroines and lots of daring airplane action.
Improvise: Scene from the Inside Out by Mick Napier
Format: Hardcopy purchased at retail
A nuts-and-bolts book for improv comedy performers. Great, if you're into that.
7th Sigma by Steven Gould
Format: Hardcopy from the library
I've read three or four of Gould's other books and enjoyed them, and I loved the premise of this one, but didn't care for the story so much. I learned after the fact that it's basically a remake of Kipling's Kim, which may explain some of the oddness, but I haven't read Kim so I don't know.
The Adventures of Johnny Bunko: The Last Career Guide You'll Ever Need by Daniel H. Pink & Rob Ten Pas
Format: Hardcopy from the library
A career advice book for 20-somethings, written in manga format. Pretty neat, full of good advice.
The Girl Aviators and the Phantom Airship by Margaret Burnham
Format: Free ebook from Project Gutenberg. (Also available in audio)
Read this trying to find another book as good as The Flying Girl and was disappointed. This one was much more formulaic and trite in the Tom Swift vein.
Robur the Conquerer and The Master of the World by Jules Verne
Format: Free ebooks from Google Books
Read both of these trying to slake my thirst for period aviation stories. Didn't really like either of them — the writing is fine but the plots of both are pretty dumb. Learned later that there's a controversy swirling about various translations of Verne; it's pretty fascinating topic that will require its own blog post someday.
Thoughts on the Nature of Intellectual Property and its Importance to the State by Nathaniel Southgate Shaler (1877)
Format: Free ebook from Google Books
Found this while researching intellectual property issues for True Stuff from Old Books posts on the subject. I got to add this title to Goodreads myself and I'm still the only user with it on any shelf.
From Birdwomen to Skygirls: American Girls' Aviation Stories by Fred Erisman
Format: Hardcopy received as a gift
An academic overview of 1900-1960s YA aviation adventure written for girls. Super duper fascinating. This is a followup to a book that I'd also like to read, about boys' aviation adventure books.
The Naughty Victorian Hand Book: The Rediscovered Art of Erotic Hand Manipulation by Burton Silver & Jeremy Bennett
Format: Borrowed copy — subsequently bought 10 copies
I'm going to do a whole separate post about how much I love this book.
The New Century Standard Letter-Writer by Alfred B. Chambers (1900)
Format: Free ebook from Google Books — subsequently bought hardcopy
Found this while Googling "correspondence etiquette" and immediately had to find a copy on eBay. One of my new favorite period books.
Prep by Curtis Sittenfeld
Format: Hardcopy from the library
Plucked this off the library shelf at random and enjoyed it. This was one where the Goodreads reviews seemed to clash with my own opinion — a lot of readers didn't like the main character and thought the author was portraying the setting (prep school) unfairly negatively, but I totally felt like I got on the book's wavelength.
The Adventures of Tintin, Vol. 2 by Hergé
Format: Hardcopy from the library
Never actually read any Tintin, so I got a few volumes from the library.
The Flying Girl by L. Frank Baum (1911)
Format: Hardcopy from the library
This predecessor to The Flying Girl and Her Chum wasn't available as an ebook, so I had to track this down at the UCLA library. Loved it even more than the other one! Hungry Tiger Press has reissued hardcovers of both volumes, complete with new illustrations. I sought out Eric Shanower from Hungry Tiger at a convention and asked him about the books, and he was surprised that I'd ever heard of them.
The Magician King by Lev Grossman
Format: Hardcopy from the library
Loved this sequel to The Magicians. Actually got the ebook too, but my library hold for the hardcopy came up before I got around to reading it that way.
The Curious Incident of the Dog in the Night-Time by Mark Haddon
Format: Hardcopy from the library
Saw this at the library, had heard good things, so I picked it off the shelf. Enjoyed it. Like Veins (below), an interesting example of an unreliable narrator.
Habibi by Craig Thompson
Format: Hardcopy bought from a comic shop
Gorgeous, immersive, expansive. Didn't care for the sexual politics of the story, but the dude can draw.
A God Somewhere by John Arcudi & Peter Snejbjerg
Format: Hardcopy bought at a convention
Read a review of this years ago that praised it highly, and I loved Arcudi's Major Bummer back in the '90s (which Dark Horse has finally put out in a trade paperback)! Liked this book fine.
I Found This Funny: My Favorite Pieces of Humor and Some That May Not Be Funny At All, ed. Judd Apatow
Format: Hardcopy from the library
Apatow admits in the introduction that he doesn't know how to edit an anthology, and about half of this book is not comedy pieces at all, which I suppose was warned of in the title. Once you get past that, though, I found it to be a decent read, with fewer clunkers than most anthologies. (That's a particular praise that we've heard a lot about Machine of Death, and the more anthologies I read, the more I realize how high a piece of praise it is).
Vitalogy by E.H. Ruddock
Format: Reprint hardcopy purchased retail
An Edwardian-era medical manual that I've owned for a while, but finally read cover-to-cover so I could parody it for a MaxFunCon promo piece. Totally bonkers in places.
Bloody Chester by J.T. Petty & Hilary Florido
Format: Hardcopy from a convention
Neat horror Western that I wish was longer.
Feynman by Jim Ottaviani & Leland Myrick
Format: Hardcopy from a convention
Super-great biography of the celebrated physicist. I didn't know much about Richard Feynman before I read this, but it totally made me want to seek out his books and lectures. (I never actually did.)
Laika by Nick Abadzis
Format: Hardcopy from a convention
Started reading this long ago at a friend's house; finally got my own copy. Such a great book.
You Ain't No Dancer Vol.1, ed. Neil Babra
Format: Hardcopy borrowed from a friend
Neat comic anthology from many years ago.
The Prehistory of the Far Side: A 10th Anniversary Exhibit by Gary Larson
Format: Hardcopy from thrift store
This book has a lot of behind-the-scenes "Far Side" material. Highly recommended for fans of the strip (who am I kidding, if you're a Far Side fan, you've probably already read it). I saw it for ONE DOLLAR at my local thrift store and about had an aneurysm.
The View from Saturday by E.L. Konigsburg
Format: Hardcopy from the library
I enjoyed From the Mixed-Up Files of Mrs. Basil E. Frankweiler as a kid (an older kid would let me read a chapter a day from his copy on the long bus ride to school), so when I saw this on the library shelf, I picked it up. (I do a lot of browsing of library shelves looking for serendipity.) Liked it fine; I appreciated how it was a YA book that didn't talk down to its audience. I don't read a lot of contemporary YA, so maybe that's the standard? If so, good! Period YA mostly treats its readers like babies.
Veins by Drew
Format: Kindle ebook
Drew's a very funny writer (I'm currently very much enjoying his blog The Worst Things For Sale) and this book is tragically sad while also being very…I think "wry" might be a good way to put it?
Why Do Birds by Damon Knight
Format: Hardcopy from the library
I happened across the high concept for this book on a blog somewhere and immediately requested a copy from the library. I found it a bit clunky in parts, but hey, so is my skeleton these days. Still works fine.
We3 by Grant Morrison & Frank Quitely
Format: Hardcopy borrowed from a friend
I'm not a huge Grant Morrison fan, and I feel like I'm always being disappointed by raved-about comics, but this graphic novel about cybernetically enhanced housepets was pretty great. It got off to a slow start, but I really enjoyed it by the end.
Empire State: A Love Story (Or Not) by Jason Shiga
Format: Hardcopy bought from the author
I love Jason Shiga's comics — his Bookhunter is one of my favorite graphic novels ever — so I was excited to read his latest. It's much quieter than some of his more formally audacious books, and I was pretty underwhelmed at first, but I'm now remembering it fondly.
FoxTrot Beyond a Doubt by Bill Amend
Format: Hardcopy from library book sale
A massive collection of "FoxTrot" comics from the mid-90s. Lots of jokes about dial-up internet, Magic Eye puzzles, and Star Trek: The Next Generation. I respect dudes like Bill Amend so much for this level of achievement — it took me months to read this whole book, and he's got a whole stack of 'em.
The Fall of the Republic by Crawford Kilian
Format: Hardcopy from BookMooch
Last Christmas I threw in my travel bag a paperback that I'd bought for a buck at a used bookstore on a whim based on the cover illustration. That was Rogue Emperor, Book 3 in the "Chronoplane Wars" series by Crawford Kilian. I thought the whole thing sounded awesomely cheesy. I ended up liking the book enough that I sought out the first two Chronoplane Wars books, and accidentally read them in a weird order — book 2, then 1, then 3. Then it turned out he'd written them in the order 3-then-a-gap-of-decades-then-1-then-2. Rogue Emperor was the third book published but the second book chronologically. And it was like a side quest to the main story — he wrote a story, then a prequel years later, then went back and wrote another interstitial story unrelated to the others, taking place between them, just because he liked the characters and setting. It took me forever to figure out how they fit together. Anyway, this book (The Fall of the Republic) is a latter-day prequel to The Empire of Time (originally a standalone book, which I read last), but I much preferred reading them in this order, so there.
The Empire of Time by Crawford Kilian
Format: Downloaded ebook
Though these books came out decades ago, I discovered that Crawford Kilian is still around, and he's been reissuing his old out-of-print books via vanity press editions. Unfortunately the new covers are very amateurish. I don't have much else to say except that I've had an Alibris tab open to a search for one of his other books for a week now, and I find myself more willing to buy an older edition, used, than a reissued version, straight from the author, brand-new but sold through a weird vanity press service. I haven't been able to reconcile that urge with my basic support-the-authors-you-love ethos, though (maybe because I am still only lukewarm on his other books at best), so I haven't pulled the trigger on either one.
AND THAT WAS THE YEAR THAT WAS. Sorry I wasn't more critical! I'm lucky that I evidently steered clear of a bunch of clunkers this year. I recommend you read…all of these so we can be pals
What're some highlights from books you read last year? Leave a comment!