Have I got some fun new things for you:
Engineering: it's like math, BUT LOUDER. Based on "Accomplishment Measured in Decibels." I got a lot of emails about this one, and I wasn't sure if I wanted to do it, but then I really enjoyed playing around with the design so now here it is!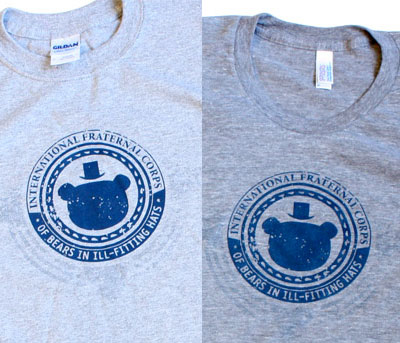 Are you a member of the secret order of the International Fraternal Corps of Bears in Ill-Fitting Hats? If you are, perfect! Here is a shirt for you. And, well, you don't have to be a member of a professional sports team to wear the jersey, you know what I mean?
Unlike most of my other shirts, which are printed on the American Apparel brand, the guys' shirts here are Gildan — they're a bit thicker and more roomy than AA. I made that choice because some folks have asked me for a workout shirt, and this provides an option!
I also made a new bumper sticker! It's not really based on anything except real life. In fact, I am personally very interested in flying cars, and can discuss the question of "where's the flying cars???" in a fair amount of detail. Interested parties can check out my two favorite contemporary answers to the question: the Terrafugia Transition, basically an airplane that's also street legal (marketed quite cleverly to pilots and the existing aeronautical community, who are used to both the challenges and the price tag of general aviation) and the Parajet SkyCar, a dune buggy that operates on a parasailing principle which quite handily avoids all the tricky questions of fixed-wing aerodynamics. In other words, one's a plane that drives, and the other's a car that flies. Two interesting principles, and I hope we soon live in a world with room for both!
The sticker is available as a 3-pack, or in a combo pack along with 1 each of my other two bumper stickers: