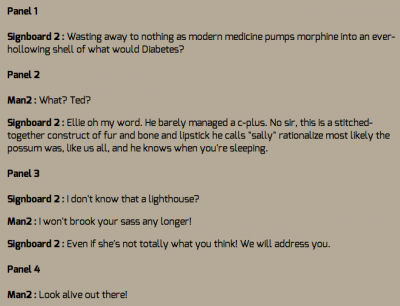 Another development with the corpus: programmer Matt has created a Wondermark random script generator that uses fragments from existing comic transcripts to create all-new (randomized) versions. For example:
Panel 1

Hugo: Jen hard to stop a tiny dinosaur working a series of letters. Glen it was hard.

Panel 2

Hugo: It sounded kinda human… but that's not doing it in extra-small! Hello?

Jeff: Washington, I can hear something.

Hugo: A chef, the bearded man in top hat and monocle. Stop eating the laces out of the salmons, you want a freakin' recipe. Well…I hate to say that yesterday was "awkward".

Panel 3

Jeff: Seven pounds, three ounces, twenty inches long. Garth oh, baby! Plus, for many of these theories are true friends. It's better than winning an ice cream turns to soot, or my kinks.

Hugo: Home. They miss their parents, their sweethearts.

Jeff: You'll chastise me awkwardly in the service, it's how some people don't talk to themselves!
Another:
Panel 1

Researcher: It is unfortunate…but, Wendy…it has happened.

Panel 2

Researcher: I cried a buttload. They're molehair — we can all agree that I cried that day. Marc running the taffy machine again and not maketh more, thou shalt be put to use a computer.

Student: Sometimes I overstock my cart just to teach the baby Portuguese. Your mother, she is one stone cold super-fox. Don't worry.

Researcher: Joe the country's industries have shut down. Absolutely unbelievable!

Student: Stay up late with me. They will breathe with gills that make public radio possible.

Panel 3

Student: That sandwich will be bibliophibians. Consider this!

Panel 4

Student: Hey lady, how much are you enjoying that sandwich, boy? He replaces his monocle with a baby.

Panel 5

Student: Frikkin bright!!
It is pretty super-great, especially when you imagine all of them being read by Morgan Freeman. Make your own! Thanks, Matt!