Here's a video about me and my workshop! This is where I come to work each day, and where I ship your orders of stickers and pins and stuff from.
The video was made by Jesse Thorn's Bullseye, the NPR interview show. It was one of a series on creative workspaces that Jesse showed as part of a lecture tour! Now it's online, for the rest of us.
I love it. I think it really captures the things I like best about my work.
I also spoke with Jesse and his co-host Jordan Morris this week on their comedy podcast Jordan, Jesse, Go! — an hour-long freeform conversation about important topics such as my busted toe, a deer that has a bad day, and the permanent smell of cabbage.
(Note that there's some NSFW subject matter in part of it.)
I was also on JJGO back in 2011 and in 2013! And on Jesse's prior interview show, The Sound of Young America, in 2009. In that one I actually talk about Wondermark a little.
This week I was also on Tom Merritt's Daily Tech News Show! This one is a very Wondermark-heavy interview. We dig deep into the weeds on the strip, including the TRUE SECRET ORIGINS of the entire sick elephant storyline.
(Which, by the way, you can now jump right to the start of by visiting sickelephant.com.)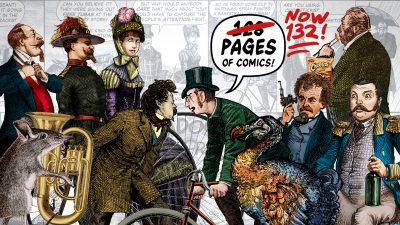 There's just about a week left in the Kickstarter for the new book!
We've just hit a stretch goal which now makes the book 132 pages, instead of 128 (and, as I mention in the latest project update, way more than 110, which I had totally forgotten was the original plan).
Projects like these are fun, of course, but they're also important chunks of my income AND useful market research as to what form future projects should take. So if you've been considering it but haven't pledged yet, you've got just one more week to do so.
You can even get just a digital copy if you don't want to own yet another book! I get it.
As I say in the update linked above:
…The truth of the matter is that the minimum print run on this project is going to be over double our current backer count — so the more money this campaign raises upfront, the less capital I'll have tied up in inventory and the more money can go into my baby's mouth.

Which is a big deal to me! I guess if you don't know the baby personally then it's probably less important to you and I RESPECT THAT. He's a pretty good baby though.
Just to lay out the facts of the matter for those who are interested in the nuts and bolts. As the video at the top of this post implies, I like nuts and bolts! We're all pals here, let's be straightforward about this thing.
My many thanks to the folks who've pledged so far! I know it's not for everyone, but the folks whom it is for, I want to make sure don't miss it. So I'll keep yelling about it!
[ Wondermark Volume 5  (+ previous volumes too!) on Kickstarter ]