Flickr photo by Kiana Wilson
I want to share an email that I received last week, from Marksman Geoff S., regarding Panel 3 from Comic #978: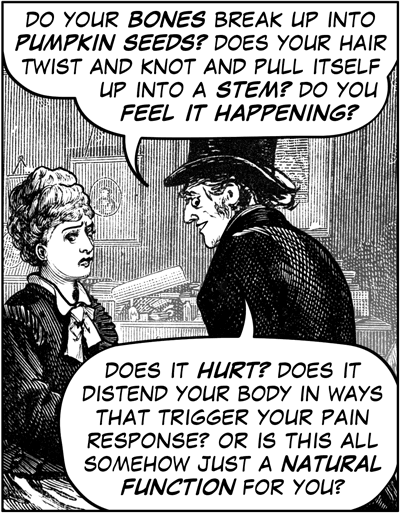 Dearest Mr. Malki !,

Oh my, I thought I read the word, "STEMP" and I had this epiphany that that was the real name for a pumpkin stem (or perhaps that of any gourd), all woody and cut to look like a tree stump, and that somehow I had lived over 40 years of my life without knowing that piece of trivia and I was MAD at life for not knowing it sooner because it made SO MUCH FRICKIN SENSE HOW DID I NEVER KNOW THAT A PUMPKIN STEM WAS CALLED A STEMP?

Anyway, then my eyes caught up with the pixels and I saw the question mark.

Thought you'd like to know. Please keep up the terrific work.
Well, Geoff, this is the best email I've received in at least a week. I posted it on Twitter and received this reply:
@malki Now you KNOW that we have to make this a real word. Everyone should start using "stemp" for a gourd stem.

— Eric D. McCutchan (@EMcCutchan) November 1, 2013

I immediately agreed, and knew at once that I should enlist the aid of my friend Erin McKean at Wordnik, which is a site that tracks definitions, unusual words, neologisms, and the ongoing march of language.
Not an hour later, this existed.
@malki @EMcCutchan @GrammarGirl Not Jake Dictionary — he's a poser, no pull at all. 🙂 http://t.co/uvYPCGKfBV

— Erin McKean (@emckean) November 1, 2013
It has no citations or formal definitions yet, because as descriptive linguists know, a word isn't real until people use it. So go out and "stemp!" (Also: stemp is not a verb.)