The San Diego Comic-Con is nearly upon us! I'll be at the TopatoCo booth (#1232) provding Roll-a-Sketches, friendly handshakes, and answers to any questions you may have about life.
On Friday night, I'll also be sharing some True Stuff From Old Books as part of a cool variety show called SPACE TIME!, hosted by musician Marian Call:
The incomparable variety show SPACE TIME! returns to SDCC this July. Tickets available now!

Songwriter Marian Call hosts her 6th annual showcase of science and art in San Diego. This year's guests include:

Come ready to sing and learn and laugh with friends old and new.

$12 online tickets are available until 5PM PST on the evening of the event. If the show has not reached full capacity, the remaining tickets will be available at the door for $15. Seating for food and drinks begins at 6:30pm ($10 minimum per person). Learn more about the venue at 98BottlesSD.com.

No SDCC pass is required, and locals encouraged to attend! The event is in Little Italy, away from most traffic and parking woes associated with the con. Easy public transit available via light rail (use the Middletown or Little Italy stops) and by bus (take the 83, 280, or 290).

Get tickets in advance, in the past this show has sold out!
---
As you may know, you can order prints of any individual comic strip you like from my TopatoCo store.
I also bring selected favorite prints to conventions! They look like this: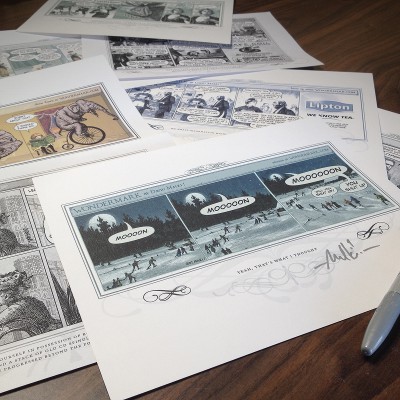 Every convention, people ask if I have specific ones, and while I often do, sometimes of course I don't.
So I'm starting a new thing: if you'll be at Comic-Con (or Gen Con, later this summer), and you want to get a print of a specific comic, email me in advance and I'll make sure to bring it for you.
Just email dave at wondermark dot com, subject: "Comic print." I'll have it waiting at the booth for you to pick up! (They cost $7, and you can pay when you pick it up.)
SPEAKING of my TopatoCo store, I've got two new shirts in there! "Cooking is Wizardry" from this comic, previously only an apron, is now a shirt as well. And also, now you can enjoy "Turctopus", hailing from this comic!