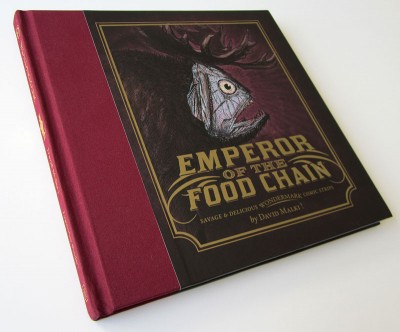 I just got an advance copy of my newest book in the mail today!! (Click any of these pictures for bigger)
It's called Emperor of the Food Chain, and it'll feature:
Over 100 comics, including all the Piranhamoose comics to date
"The Gax of Life" short story originally published in the Dark Horse Presents anthology
Several pages of "Ask Gax" advice columns
A handy "Zoological Times Table" for your reference
Several pages of rejected strips and guest comics
Lots of "advertisements", ancillary material, and new jokes written just for the book
All this PLUS an introduction written by my very own mom!
Although it shares a form factor with the Dark Horse books, Emperor is published by my good friends at TopatoCo! And since it's been a little while since the last volume (Dapper Caps & Pedal-Copters came out in 2010), Emperor is around 15% longer than the previous volumes.
I'll be launching the book at SPX in Bethesda, MD next month, and then it'll go on sale online! Artist Editions (containing original sketches) will be available for a limited time as well. I'll talk more about that once I've got the dates all firmed up, but they'll probably be available starting September 17.
I spent most of the spring working very hard on this book and I can't wait for you to see it!!