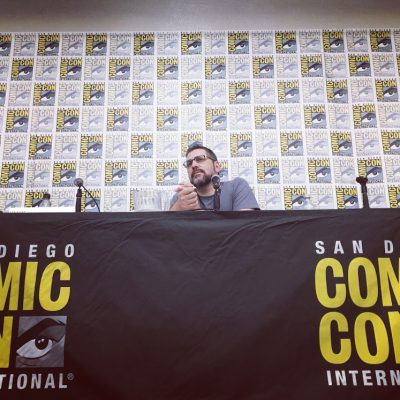 It's time once again for San Diego Comic-Con, and as per usual, I'll be at the TopatoCo booth, #1229 (right next to #1234, which is how you remember it!).
I'll be sharing that space with Ryan North, Brandon Bird, and, in his long-awaited return to San Diego after many years banned from entering the building, Sam Logan!
I'm sure we will come up with many excellent jokes in the many punchy hours we will spend standing next to one another — feel free to ask us what the current running gag is, at whatever time you see us.
On Sunday, I'll also be participating in this panel:
Comics of the Internet: The Memes, the Myths, the Legends

Have you seen that one comic online? You know, the one that's everywhere? What if you could talk to the creators behind the comics that broke the Internet? Now you can! comiXologists Matt Kolowski and Kiersten Wing chat with meme comic scholars and creators Hope Nicholson (Bedside Press), Megan Kearney (The Secret Loves of Geek Girls), Shen T. (Owlturd Comics), David Malki (Wondermark), and Nick Franco (Nuzlocke Comics) about the creative genius and little bit of luck that make these exceptional comics go viral!

Sunday July 22, 2018
2:00pm – 3:00pm
Room 29AB
I think they are going to ask me about that comic about the otter, or whatever it is.