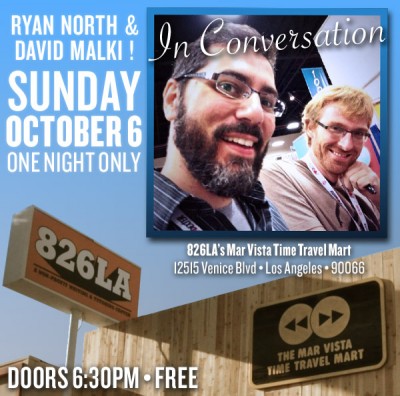 Just announced: THIS SUNDAY, October 6, I'll be hosting a conversation and signing with Dinosaur Comics/Adventure Time/To Be or Not To Be author Ryan North!
It'll be at 826LA's Mar Vista Time Travel Mart in West Los Angeles. As you may know, 826LA is a nonprofit writing & tutoring center for kids ages 6-18. Here's one of my Machine of Death Kickstarter videos, talking about 826LA and what they do!
At Sunday's event, Ryan and I will be chatting and signing our books, and if you have an MOD Kickstarter order that includes a Machine of Death book, you can pick up the book and have it signed right there! (The games themselves will be shipping in November.) (And to be clear, you don't have to be a Kickstarter backer to attend or to grab a book!)
Ryan and I will also be reading from Choose Your Own Adventure books written by elementary school kids at 826LA field trips!
This event is FREE and open to the public. Doors open at 6:30pm. Hope to see you there!!
RYAN NORTH & DAVID MALKI ! – IN CONVERSATION
Mar Vista Time Travel Mart
12515 Venice Blvd, Los Angeles CA 90066
Street parking available
OBLIGATORY REMINDER FOR MOD KICKSTARTER BACKERS:
Monday, October 7 is the last day to make any changes to any BackerKit orders, including adding on a copy of THIS IS HOW YOU DIE if you like. More details here!