A few weeks ago I showed you a game you could play with the absurd Restoration Hardware catalog! I also asked you to suggest your own description, in their own absurd style, for the following MYSTERY ITEM (click for bigger):
You all had very good suggestions, but…in trying to write parody descriptions of this item, you all accurately described other items from the actual Restoration Hardware catalog.
For my top 10 favorite descriptions, I took the liberty of locating each of the things that you accidentally described. At least I assume it was a series of improbable accidents????
---
"Fragment of a temple to Apollo looted by Victorian explorers, now reproduced in spillproof cast resin, making it ideal for sacrifices or tea." — Anne-Marie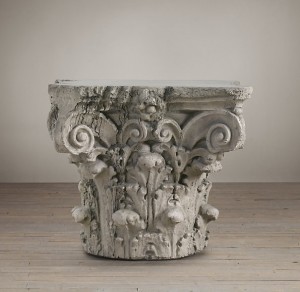 ACTUALLY DESCRIBING:
SCROLLING CORINTHIAN CAPITAL SIDE TABLE ($295)
---
"Supported by a fluted plinth fashioned after an original unearthed from a Pompeiian brothel, this resin-cast facsimile of an Etruscan oxcart wheel lies at the perfect height for tea…Yo, beeyotch, you want dis" — milkfish
ACTUALLY DESCRIBING:
CAMILLE TABLE ($1495)
---
"Inspired by the nightmare corpse-city of R'lyeh, an artisanally hand-weatherd byakhee blood-perch" — Tim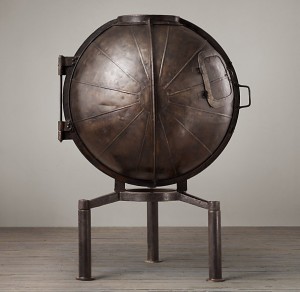 ACTUALLY DESCRIBING:
1920S GERMAN LIGHT BULB VOLTAGE TESTER BAR ($1995)
---
"Simulacrum of the facade of a 19th century accountant's office in Ricksmansworth, oppressed by a re-imagined scale model of Lord Palmerston's tombstone." — Jorpho
[I love the verb oppressed in this context — Ed.]
ACTUALLY DESCRIBING:
CIRCA 1940 IRON SCROLL & BLUESTONE CONSOLE ($2995)
---
"Lovingly imagined wooden reproduction of an Athenian Ionic-era column, reimagined with a sudden cessation of existence at waist height, to give the viewer the impression of having been dramatically murdered midway through seeing it for the first time." — Cass
ACTUALLY DESCRIBING:
DISTRESSED IONIC CAPITAL COFFEE TABLE ($2095)
---
"Inspired by the aqueducts of the Cloaca Maxima, this classic table masterfully holds Polynesian stone pineapples or other bullshit." — Thraeryn
ACTUALLY DESCRIBING:
CAST IRON DEMILUNE CONSOLE TABLE ($795)
---
"Repurposed setpiece from failed 1866 production of Julius Ceasar, topped with charming Lazy Susan for giants." — Drakey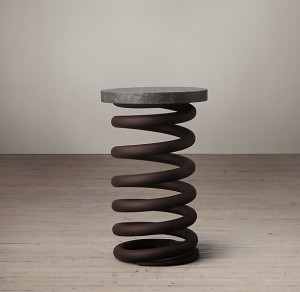 ACTUALLY DESCRIBING:
INDUSTRIAL COIL STOOL ($495)
[This must have been a spectacularly failed production of Julius Caesar.]
---
"Ancient Lemurian sacrificing altar to the Great God Lulu, faithfully reproduced using the high-quality Medieval Florentine stone-welding technique." — Bird of Prey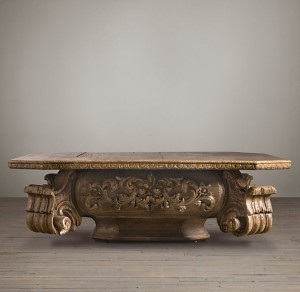 ACTUALLY DESCRIBING:
BAROQUE CAPITAL COFFEE TABLE ($1395)
---
"Weathered by red marl and shaped into the fin de siecle style of Classical reproduction plinths, our faux-artichoke stand is a bold reimagining of the rotten stump from our back yard." — Myles
ACTUALLY DESCRIBING:
PETRIFIED WOOD STUMP TABLE ($895)
---
"Dining table inspired by the columns of Caligula's nursery, crafted of finely compressed rhinoceros horn shavings." — WillHickox
ACTUALLY DESCRIBING:
STACK 50 TABLE ($2695)
---
You all did so very well at attempting to describe the item in question — and I recommend you read the whole list for many enlightening moments of a personal nature.
BUT HERE IS THE REAL DESCRIPTION:
Reproduction of a perfectly proportioned stone column in Ancient Greece, built of solid reclaimed pine timbers from 100-year-old buildings in Great Britain.
Two quick thoughts about this.
1. Commenter ctu interestingly points out that "There are 72 different items [in the catalog] which are described as being made from wood from '100-year old buildings in Great Britain'." To which commenter Charles responds, "Most buildings in Great Britain are pretty old. I'm sure there is no shortage of waste wood." I love the idea that, like, 100-year-old reclaimed British wood is as common a building material as bricks from the Home Depot.
2. I would have liked to have been a fly on the wall in the meeting where someone connected the dots between an Ionian column and reclaimed British wood. The Venn diagram of those two things is the single word "old" and nothing else.
I guess making a column out of wood is as valid as making it out of cast resin; neither is authentic to the original. But this strikes me a bit like putting SkyMall statues of lions in your front lawn: nobody is fooled into thinking your brown grass is Trafalgar Square.
There's a theory that everything that happened before you were old enough to remember might as well all have happened at once, in terms of how you perceive it — it's all just "old." The Ford Model T might as well have been released in the Precambrian Era; it occupies the same slot in our perceptions.
If that's so, then thank you, Restoration Hardware, for helping us bring a little of the unmatched class of random miscellaneous past before-times into our humble homes, one FOUCAULT'S ORB SMOKE CRYSTAL TABLE LAMP ($1295) at a time.
BONUS LINKS:
For more catalog hilarity, commenter Allen suggests the blog catalogliving.net, which imagines the lives of the bizarre people whose items are the ones being photographed for catalogs…
…And commenter Sinick recommends the J. Peterman catalog (the real one that Seinfeld parodied), starting off with this entry in particular, a product description for the "Father of All T-Shirts"…
In Bilbao, I observed a crew of moving men uncrating a giant piece of highly advanced sculpture. They were built like great sagging old bulls; in this shirt, they looked formidable…

The sleeves have a way of gathering emphatically at the top of a man's arms, even if he is the sort of man who rarely lifts more than a fountain pen. Imported.
I will take a hundred of those shirts. Amazing.