Today's comic "The Master, and his Piece" was made using images from the Rawpixel Design Resource Library!
Specifically, the main two figures are from the curated Vintage Valentine's collection: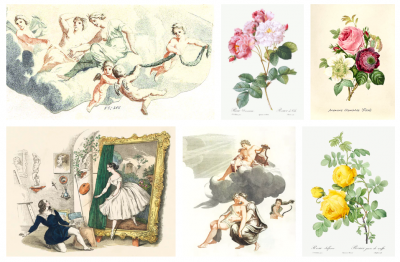 There are a lot of stock image libraries out there, but Rawpixel is the first commercial one I've seen that actually acknowledges when certain images are in the public domain and makes them available for free.
Rawpixel's collection is associated with The Public Domain Review, which is a great site with essays about topics related to vintage works of art and literature.
The P.D.R. essay "Frankenstein, the Baroness, and the Climate Refugees of 1816″ by Gillen D'Arcy Wood completely changed my understanding of that very well-known book.
I recommend that site highly for lots of thought-provoking reading! And Rawpixel for pictures seems pretty cool so far too!
OBLIGATORY REMINDER: Thank you so much to all the new patrons on the Wondermark Patreon page! I just posted a new 2 Minutes to Wondermark video for patrons.
This Friday, February 15, is the last day of our Special Offer, in which all patrons at the $5 tier or higher will get three different downloadable Wondermark desk calendars! As well as my undying gratitude, OF COURSE.