Here are a few of the Roll-a-Sketch drawings I made for folks at San Diego Comic-Con last week!
Next week I'll be in Indiana once again for Gen Con, and if you'll be there as well, you can grab one of these sketches from me there! My cartoonist buds and I will be at booth #2129, around the back.
I'm quite happy with these drawings and I can't wait to do some more at Gen Con! (Click any of the pictures for a closer look.)
CHRISTMAS + PANDA:
DISNEY + INSPECTOR GADGET + CATFISH + KNIGHT: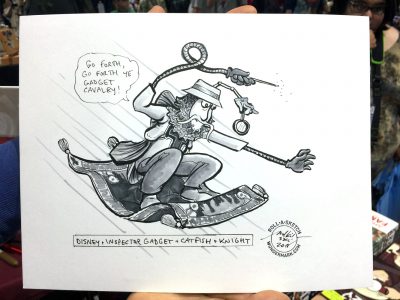 CAVEMAN + CAT:
ELEPHANT + ROYALTY + SULTAN + SUPERMAN:
FANCY + WHALE: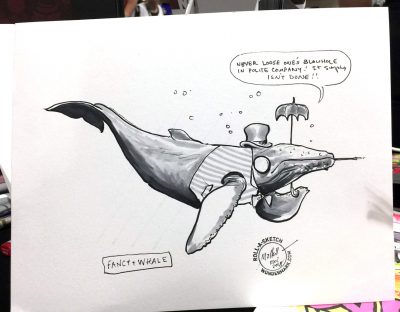 And finally, a special roll for Juneau's own Pat Race, MOOSE + ROYALTY (and he won the moose honestly, I should add):
I asked TWO DIFFERENT CANADIANS for caption suggestions for this one, and they both independently answered the same thing. Sometimes the obvious thing is the best thing.
Thanks to all who came by this year!!