It's the last day to pre-order the Wondermark Jigsaw Puzzles! Update: The campaign's over, hooray! Thank you so much to everyone who's pre-ordered a puzzle (or a book, or a poster, because those are also available in this campaign, at discounted rates from their normal prices).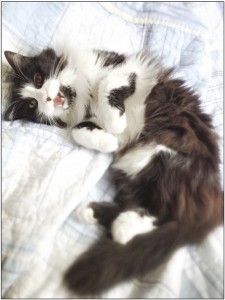 As we near the holiday season, I'm planning to make an all-new set of holiday-themed Multi-Purpose Greeting Cards, as well as a little mini-puzzle of my favorite Vine celebrity, Feral Cat.
All backers at any level are already going to get a free download of Feral Cat phone alert tones (and we're very close to the stretch goal where every puzzle comes with a free emergency extra piece)!
But Kickstarter backers as a group will also get first crack at, and best prices on, this season's new holiday cards…as well as the Feral Cat mini-puzzle.
It's just a little "thanks" to backers for being rad! And if you haven't yet, you have until 1pm Pacific time to become a backer (at any level).
Thanks so much to all who've chipped in, I can't wait to make these puzzles!!
HERE'S AN EXCLUSIVE SNEAK PEEK:
Wondermark's Jigsaw Puzzles of Fictional Victorian Charts.
Ends October 9.