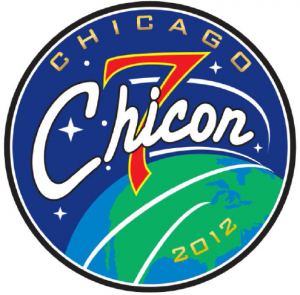 This weekend I'll be in Chicago for Chicon 7, aka the World Science Fiction Convention, or Worldcon! Every year Worldcon is held in a different city, and takes on a new name and character. Last year's, in Reno, was 'Renovation'; this year it's in Chicago for (I presume) the seventh time — hence Chicon 7.
I'll be in the dealer's room with books and goodies (including a couple brand-new things I haven't shown anyone yet), and I'll also be participating in the following programming:
Designing Professional Covers – Fri Aug 31, 12:00-1:30 pm
Crash course in design principles for self-published authors.
(Dale Cozort, David Malki, Michael Coorlim, Stephen H. Segal)
Designing Professional Covers: A Different Perspective – Fri Aug 31, 3:00-4:30 pm
A different look at the design principles for self-published authors. How to make it look professional.
(Alan F. Beck, David Malki, Mark J. Ferrari, Maurine Starkey)
I'm not sure how I made it onto both of those panels, but I guess I will try to say different things? Perhaps I will make a point of contradicting myself utterly and completely, just to punish the people who come to both.
Writer Under Glass #28 – Fri Aug 31, 5:30-6:00:pm
This isn't actually a panel, but a stunt. Writers volunteer to sit in a certain place for 30-40 minutes each and write serially on a collaborative story. Each takes up where the previous left off throughout the run of the convention. The resulting manuscript will be printed out only once, signed by all the writers, and entered into the charity auction as a contribution from all the writers. Con attendees can watch the writers at work — this has to be done in public like Harlan Ellison's writing in shop windows — but may not harass them. The attendees can watch what's being written in real time on a remote monitor. The story is complete at the end of the con and no other copies will be made without consent of all the writers who participated.
(This session: David Malki)
Airships: the Reality – Sat Sep 1, 3:00-4:30 pm
With the popularity of steampunk and other backward-looking and revivalist movements, lighter-than-air transport gets a lot of talk these days — not all of it well-informed. What is the difference between a blimp and a Zeppelin? What is flying like when you need power to land? What are the operational realities of hydrogen, helium, rigids, and non-rigids? Why don't we see more of them in our skies today?
(David Malki, Howard Davidson, Joseph P. Martino, Lisa Hayes, publius)
Turn Up the Steam – Sat Sep 1, 6:00-7:30 pm
Les Nevins recently wrote about the 'continuum of steampunk,' referencing Cherie Priest's statement that steampunk is not a yes/no proposition, but one of 'how much?' How much Steam is required? Is Alternative history required? It is fantasy, or SF or is it a lifestyle? Is it all of this? Something else?
(David Malki, Kenneth Hite, Leigh Bardugo)
Victorian and Edwardian Science Fiction – Sun Sep 2, 1:30-3:00:pm
This panel will survey the high points of Victorian and Edwardian science fiction, highlighting both the well-known works that helped shape the genre and lesser-known curiosities. Different cultural and literary notions that helped shape that fiction will also be discussed.
(David Malki, Matthew Bennardo, Randy Smith)
I'm looking forward to that last one in particular, since I'll be sharing the stage with my Machine of Death co-editor Matt Bennardo, and I'm keen to see what he's got cooking to say on the subject of turn-of-the-century genre literature, which I know he's quite fond of. Matt's a thoughtful dude — here's a blog post he wrote titled "Why Do We Publish?" that's well worth a read.
I also hope to hold at least one session of playtesting for the new Machine of Death card game we've been developing, tentatively titled Kill Squad: The Game of Creative Assassination. If you're interested in playing the game with us some evening during the show, come by my booth in the dealer's room for more details! I'll have the specifics once I arrive at the hotel and get situated at the con.
See you in Chicago!