It's the LAST DAY for the Machine of Death card game Kickstarter! I am completely overwhelmed by the support. Thank you so much to everyone who's pledged! We've been able to unlock a super-ton of bonus content thanks to you, and that's stuff that's going to everyone who gets in on the campaign before it ends later today.
Here is a video of me and Kris playing the game in 2-PLAYER CO-OP MODE. I think it shows how the game acts as a fun vehicle for jokes and conversation and the creation of absurd scenarios.
Kris and I have created a number of Wondermark- and Broodhollow-themed bonus cards that will go free to all backers during the Kickstarter! Some samples: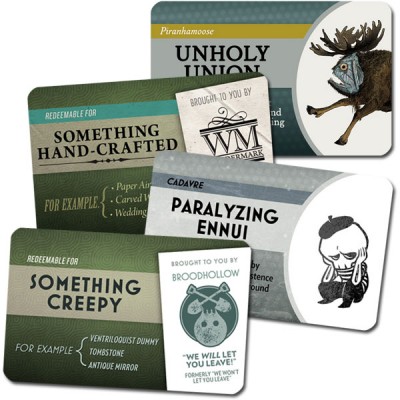 If you haven't been reading Kris's new comic Broodhollow, you gotta. It's super-great. Start at the beginning.
BONUS VIDEO: Here is a BEHIND THE SCENES PLANNING SESSION recorded just over a month ago, right before Kris and I launched the campaign! It features…JOKES