I've done one single run of my popular "Steam Powered Heart" design on black shirts! These are American Apparel BB401 (men's/unisex poly/cotton) for an extremely soft, comfortable fit. Modeled above by my friend Phill. (Check out his dancepop group, The Vice Junkies.) This is a one-run-only shirt, so supplies are limited to stock on hand. Available now!
(Of course the regular [brown] edition of Steam Powered Heart is still available right here at TopatoCo.)
ALSO: I have come into possession of a number of misprinted "Engineering: It's Like Math, But Louder" shirts. UPDATE: These are all sold out! But you can still look at them, below.
The regular, perfect versions are here at TopatoCo, but right now in my office I have shirts that exhibit the following problems, which are a more-or-less comprehensive inventory of things that can go wrong with a shirt. (Click for closer views)
The ink is scratched. Pulled off the press too soon? Wrinkle? Something on the printing screen? Don't know, don't care.
This one is way over-inked. Maybe it got printed twice? Three times? Possibly up to a hundred times.
This one has some stray ink on it. The ink has wandered away from home in hopes of finding a more loving family. Will it learn its lesson? No, because it was then cooked in (the wrong) place.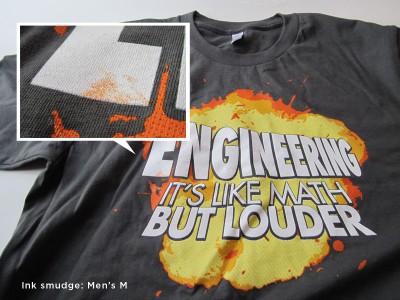 There are two like this, in which the background explosion became a little TOO excited and spattered into the foreground. But NO that is BAD that is INCORRECT.
This shirt was printed off-register. The colors don't quite match up properly. It's got that "hip" "vintage" "messed-up" "done incorrectly" look.
The shoulders of this shirt are very slightly bleached orange. How did this happen? Does the factory keep bleach-soaked hangers on standby, and then once a day choose to put a shirt on one of them?
This one has what looks like the residue of a marker on it? It's hard to make out, but the marks are there — no ink, just lines. Maybe someone tried to write on this shirt with a Sharpie that had run out of ink, and just the alcohol solvent came out? "Hmm," they thought, "that didn't work the way I expected. Better ship this shirt to an unsuspecting customer."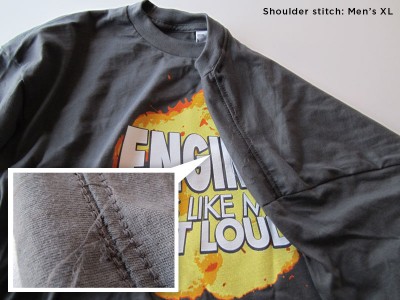 I'm not quite sure what's going on here, but I don't think it's supposed to be this way.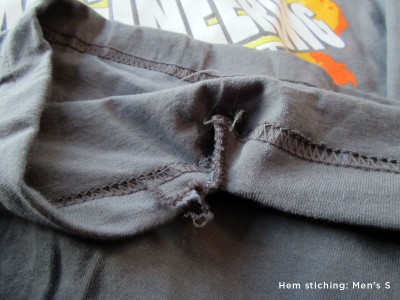 I think it's incredibly progressive and inclusive of the American Apparel factory to hire sewing workers with debilitating neurological disorders.
There's one with a hole in it too, but I'm keeping it for church.
If your desire for SAVINGS outweighs your desire for PRODUCT INTEGRITY, these problem children are for sale for $13 right here.