Thank you so much to those who've checked out the Kickstarter campaign for the new Wondermark book! I'm pleased to announce that we have met our initial funding goal and the book will definitely now be produced in the spring!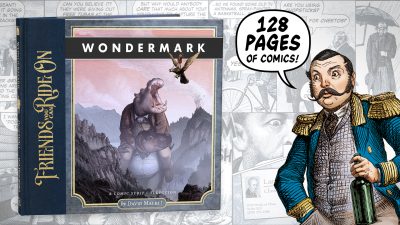 Now, the question is just "How many pages will the book be?" Any additional funds we raise will go toward making everyone's book longer and contain more comics. I've been announcing updates in video form on the campaign page.
There is also a digital-only tier, if you don't want an actual physical book taking up room in your life!
If you need to see a series of jokey graphs before deciding to back, well, I've got that too.
There are still a few weeks left to back the project, and as I write, we're close to 15K, at which point everyone's book gets 4 pages longer.
[ Wondermark Volume 5 on Kickstarter now ]