As the year's end approaches, I should let you know that my in-house store, offering greeting cards and calendars, will close for the season after this Friday, the 18th! All orders made up through Friday will ship this week. After that, it's January, baby. UPDATE: We have now closed for the season!
(Note that I cannot control the speed of the post office, so at this point in the month, I can make no guarantees about Christmas delivery. I think it may be likely, depending on when you order and where you live, but all we can do is our very best.)
My books, apparel, &c. at TopatoCo are also shipping now! TopatoCo has their own set of holiday deadlines which are a bit more restrictive. I recommend taking a look over there, as there are lots of fun things!
LIKE THESE THINGS:
Just, you know, as an example.
TopatoCo also has a pop-up shop this year, at their Easthampton, Massachusetts headquarters! I believe they are offering local pickup of online orders there, so that is cool and new.
Here is more about our calendar, as well! I've talked about its name and the stuff you can get with it. Here is more about the thing, itself!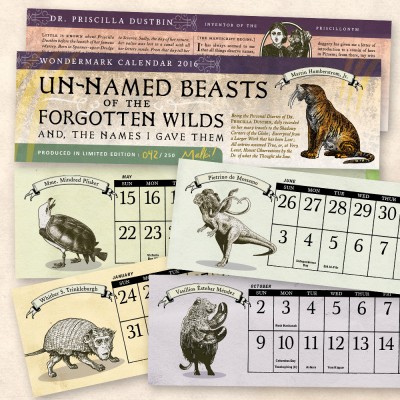 Every year since December 2007 I've made a limited-edition Wondermark calendar. For the past five years, it's been a progressive calendar, which means there are no gaps between months! This is an objectively more useful way to experience a calendar, as it is the way we experience real life.
In order to ensure that you can always see dates at least two weeks ahead (no matter where you are in the month), each calendar card is fortnightly rather than monthly. In other words, each card shows two weeks.
This also means that, rather than twelve pieces of art or photos or whatever like a monthly calendar might have, our calendar includes thirty new pieces of Wondermark art. WHAT VALUE!
Each year's calendar is themed! This year, it relates the famous tale of Dr. Priscilla Dustbin, with each page displaying another of the strange creatures she encountered on her storied voyage around the world.
Here is a bit of background on Dr. Priscilla Dustbin, from the calendar's introductory page:

Little is known about Priscilla Dustbin before the launch of her famous odyssey. Born in Spanner-upon-Dredge to a carpentrix and a lorry pranger, she earned her doctorate by post while working in a dog factory, where she discovered and named six new types of dog, most of which had been concealed under some old blankets.

Soon, her heart broken by a fellow dogworker and her taste exhausted for things familiar, she set off on an expedition to the world's wildlands, where she keenly observed, and sketched from life or memory, many curious creatures unknown at that time to Science.

Sadly, the day of her return, her valise was lost in a canal with all her letters inside. From that day till her death six decades later, she insisted it would be 'a right bother' to re-transcribe any of her recollections…

This year, a partial manuscript was found by chance in the Bodleian library, mislabeled as a Hungarian dictionary. Historians can now marvel at this chronicle of the wilds as they once were, long ago.

Here, in print for the first time, is what remains of the diaries she kept, the drawings she made, and the names she gave to the wonders she discovered on that journey.
It's quite a rousing tale, and it takes a full year to unfold. It will be your constant, stalwart companion in the weeks and months to come.
I only print a limited number of these calendars every year; each copy is signed and numbered by me. I will show you more of the creatures inside over the next few days.
For now, I will advise that, as of this writing, only 62 copies remain unspoken-for. If it interests you, please don't delay: claim one right now! It is now sold out!